The fishing town of Gansbaai in the Southern Cape is not only the birth place of great white shark diving in South Africa, it is also touted as being the Shark Diving Capitol of The World.
Over the last three decades, the shark diving industry has developed from virtually a one-man-show-type set up to large businesses employing hundreds of people. It is also here where the progression of the White Shark Industry can really be measured. The nine permitted operators have upsized their boats and also increased the size, and changed the shape, of shark cages. All this to cater to the nearly 80,000 shark diving tourists that visit here annually.
During the period October 1990 to August 1994, the White Shark Research Institute (WSRI), founded by Dr Lenard Compagno and Theo Ferreira, conducted great white research trips to Dyer Island, False Bay, Struisbaai, and Mossel Bay. Most of the work was conducted at Dyer Island and Struisbraai Bay and this really was the first work done on great whites where fishing for them was not the ultimate aim. Rather, the aim was to determine the population dynamics of Great white sharks in South Africa.
The WSRI was also successful in campaigning to protect the Great white shark in South African waters. South Africa was the first country in the world to afford protection to the great white, and this took place in 1991. This was critical to the wellbeing of the species.
In the early days of Gansbaai, the WSRI would drive through the sleepy town of Gansbaai with their shark cage covered in tarpaulin. The locals could not believe anyone would want to get into a risky-looking cage to dive with a notorious beast that stalked their waters! Most people also harboured thoughts of the team not returning at all …
White shark work in those early days centred around Dyer Island and the now world famous "Shark Alley". The "tourists" where mainly volunteers, both local and internationals who were desperate to see and spend time with a great white shark.
Chris Fallows, from Apex Shark Expeditions, was one of these early volunteers and volunteered in Gansbaai for four years.
He remembers their busiest ever shark day. Anchored in Shark Alley, with crystal clear water, they recorded no less than 19 sharks around the boat.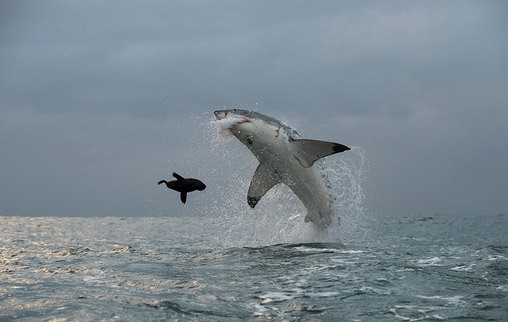 The dynamic at Dyer Island is very different to Seal Island, False Bay. Kelp forests almost completely surround the area and as such seal movement is very different to False Bay. Seals are said to use the cover of kelp in predatory defence of Great whites so the rate of predatory behaviour here is much lower. However, extremely fascinating observations of a great white shark stalking seals in the kelp have taken place on occasion. This could very well be a kelp hunting specialist!
Shark Alley lies between Dyer Island; home to African penguins, Cape Cormorants and various other sea birds; and Geyser Rock. Geyser Rock is home to a cape fur seal colony of just under 60,000 cape fur seals.
All great white shark cage diving in Hermanus operations took place here in the 1990's and it wasn't until the early 2000's that shark work began taking place along the inshore areas, particularly, Joubert's Dam, or "Die Dam" as it is more commonly referred too.
Great white sharks were always thought to frequent the Dyer Island area in the winter months where it is assumed they fed on cape fur seals. In the South African summer months, their movements were more prolific along the inshore areas, taken advantage of various fish and smaller shark species found here.
Shark Cage Diving in Hermanus
In the early days of shark tourism, demand was limited and as such the boats were smaller and were mostly 28 foot Butt Cats, meaning engine powered twin hull fibreglass boats. They would take a maximum of six guests and two crew members and a round one-man shark cage was used for the shark diving. Trips were also limited to a few times a week.
I remember back to the early 2000's when the first shark boat was built that could carry 18 passengers. It seemed unbelievable! This was when the shark cages also began to evolve and moved towards rectangular cages that could hold more divers.
Fast forward twenty years to shark cage diving in Hermanus in 2020 and many of the boats now take up to 38 passengers and shark cages are built to hold 8 divers at a time. With most companies doing three trips per day, Gansbaai truly is the Shark Diving Capitol of the world!
We also offer shark cage diving in Simon's Town, Gansbaai and Mossel Bay. Sadly, Gansbaai is experiencing a similar decline in Great white sharks, as in False Bay. Previously spotted year round, sightings are now sporadic.
In 2017 five great white shark carcasses were found washed ashore. All indications pointed towards predation by Orcas. The threat of orca predation on great white sharks seems to have a short to medium term affect. Most times when orcas are spotted in the area, great whites will not be seen for weeks or months at a time. Other factors such as loss of prey availability in the form of smaller shark species, and climate change are also cited as contributing to the effect on the South African Great white shark population.
Just as at Seal Island, the open niche was almost immediately filled by another toothy predator. In this case, Bronze whaler/Copper sharks. The occasional seven gill shark is also seen along with the impressively large short-tailed devil ray.
Although these sharks are seen almost year round, the highest numbers are recorded during the summer months when water temperatures are higher. Sometimes up to thirty different sharks have been identified on a single trip so the shark experience remains exceptional with these very interactive animals.
Gansbaai is a two hour car ride from Cape Town so it is easily visited on a day trip. However, Walker Bay and Hermanus are hot spots for Southern Right whales between July and November so an overnight stay means a variety of iconic marine species can be enjoyed.