Working with sharks certainly keeps us on our toes. We are living in a period where massive ecological and environmental changes are taking place at a rapid rate and as such we have had to adapt our business to these changes and challenges.
Since September last year, we have been running hugely successful shark cage diving trips with Sevengill sharks at Seal Island and up to the end of May, we had no reason to think we'd be thrown another curveball. Even though the Great white shark sightings along the South African coastline have been unpredictable the last 3 years, every June and July we have been seeing Great whites at Seal Island. So by the end of May, we were expecting our first Great whites to arrive within days and in the meantime, we were very happy to interact with the Sevengill sharks.
Enter the notorious Orca duo of Port and Starboard….
Yes, to our great dismay we received a phone call from our Skipper, Ryan early on the morning of 25 May. Port and Starboard were at Seal Island. In this article, we look at cage diving with sharks in Cape Town in June 2019.
Experience Cage diving with sharks in Cape Town in June 2019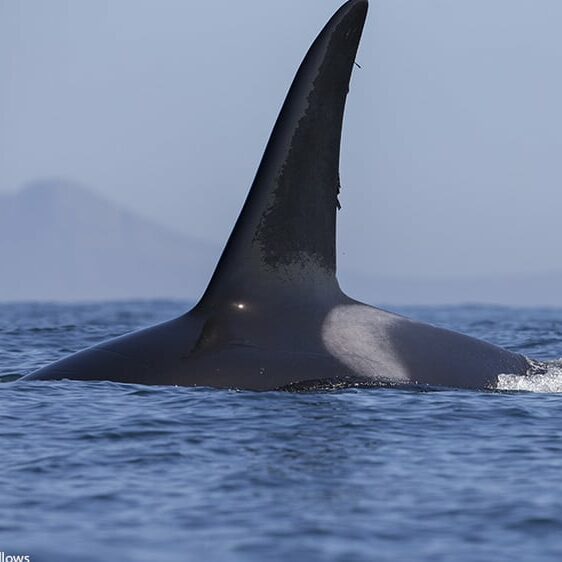 We were able to spend 4 hours at Seal Island trying to observe this encounter. The full blog and report can be read here: Port & Starboard at Seal Island.
It was a fascinating observation but the results are unfortunately less than desirable. From reliable records, it seemed they stayed close to Seal Island and in False Bay for a further 5 days and since then we have not seen a shark at Seal Island, Sevengill, or Great White.
We are sure that a number of Sevengill sharks were killed and that the others fled the area. This has been heartbreaking for all of us at Apex but especially for our crew who have spent so much time with these incredible sharks, getting to know many sharks on an individual basis.
Sevengill sharks have been around for 180 million years, they have even outlived the Dinosaurs. So, they are nothing if not survivors, and we are sure they will return to Seal Island. We just have to be patient and wait until they are ready.
What we are concerned about is that the presence of Port and Starboard could have had an effect on any arriving Great white sharks. We know from their mere presence in the Gansbaai area that these orcas just have to swim/transverse through the area and all the Great whites leave, sometimes for weeks on end.
So, the bottom line is that we are not sure what we are dealing with at the moment.
OCTOPUS FISHERY KILLS ANOTHER 2 WHALES IN 2 WEEKS
In closing, many of you would have been following social media posts about the Octopus Fishery in False Bay having killed numerous whales via entanglement in their fishing gear over the last 2 years. Now, in just 2 weeks, 2 more whales have died as a result of this "experimental fishery". Just by the way, it has been operating under an experimental licence for the last 17 years! True to form, DAFF remains mum with regards to any feedback on the matter.
Huge public pressure, as well as pressure from The City of Cape Town and other industry role-players, is mounting. If you would like to follow this story please have a read here.
From our point of view, these octopus traps have, and continue to be deployed at Seal Island for the past 3 years. Any animal coming there has to navigate a minefield. There were no less than 14 floats around the West side of the Island just a week ago and also in front of the launchpad.
For the seals, the traps are placed everywhere in terms of the pathways of where they usually approach and leave the Island from.
And on a very worrying note, if whales can get entangled then surely white sharks can as well? The current situation around Seal Island is an ecological nightmare and should never be allowed.
It's time this industry is put to an end.
I do apologise for the angry tone but we are completely frustrated with DAFF and DEA not looking after the environment they have been tasked with managing on a sustainable level. Soon there will be nothing left.
At the time of publican, we are very happy to report that the Octopus Fishery in False Bay has been put under suspension. Once we have more information we will share this on our social media outlets.
And now the Good News!
We have always run our business on 2 basic principles. The animals we work with are always worked within the most ethical way possible and second is that we always try to do what is best for our clients.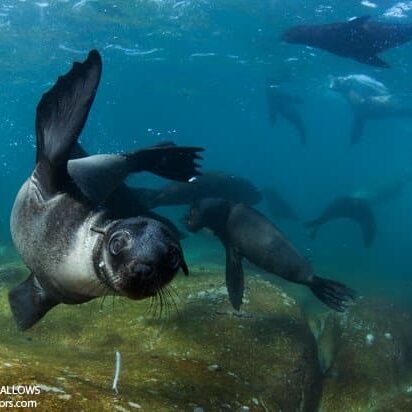 In the wake of the Seal Island developments, we adjusted our trips to the Cape Point Shark dive.
This cage dive takes place just beyond the famous landmark that is Cape Point and in these nutrient-rich waters, we have the possibility of seeing both Mako and Blue sharks. We were extremely lucky to have two good patches of weather in June and the trips have been absolutely fantastic.
In the roughly 20 trips we did in June we saw sharks on all our trips and on most trips we saw both species. The water visibility was always 10 meters plus so the actual dive experience has been very good and highly enjoyable.
Blue sharks are for me one of the best species of sharks to dive with. Once they arrive at the boat they are most likely to stay for the whole duration of the trip. They are very interactive and make very close passes of the cage. They are also completely non-threatening.
The Mako shark, the cousin to the Great white shark, is a very special shark to see and dive with. They are one of the fastest fish in the ocean and with their cobalt blue colour they are just exquisite. Blue sharks give you a happy feeling underwater whereas the Mako will leave you in no doubt that they are a serious predator! Both sharks offer an amazing shark experience.
Added to the experience is the chance to see a great variety of open ocean sea birds, the mighty Albatross being included in this group. As always, we try to run marine wildlife-focused trips, and along with the sharks and an impressive number of bird species we have also come across humpback whales and schools of common dolphins.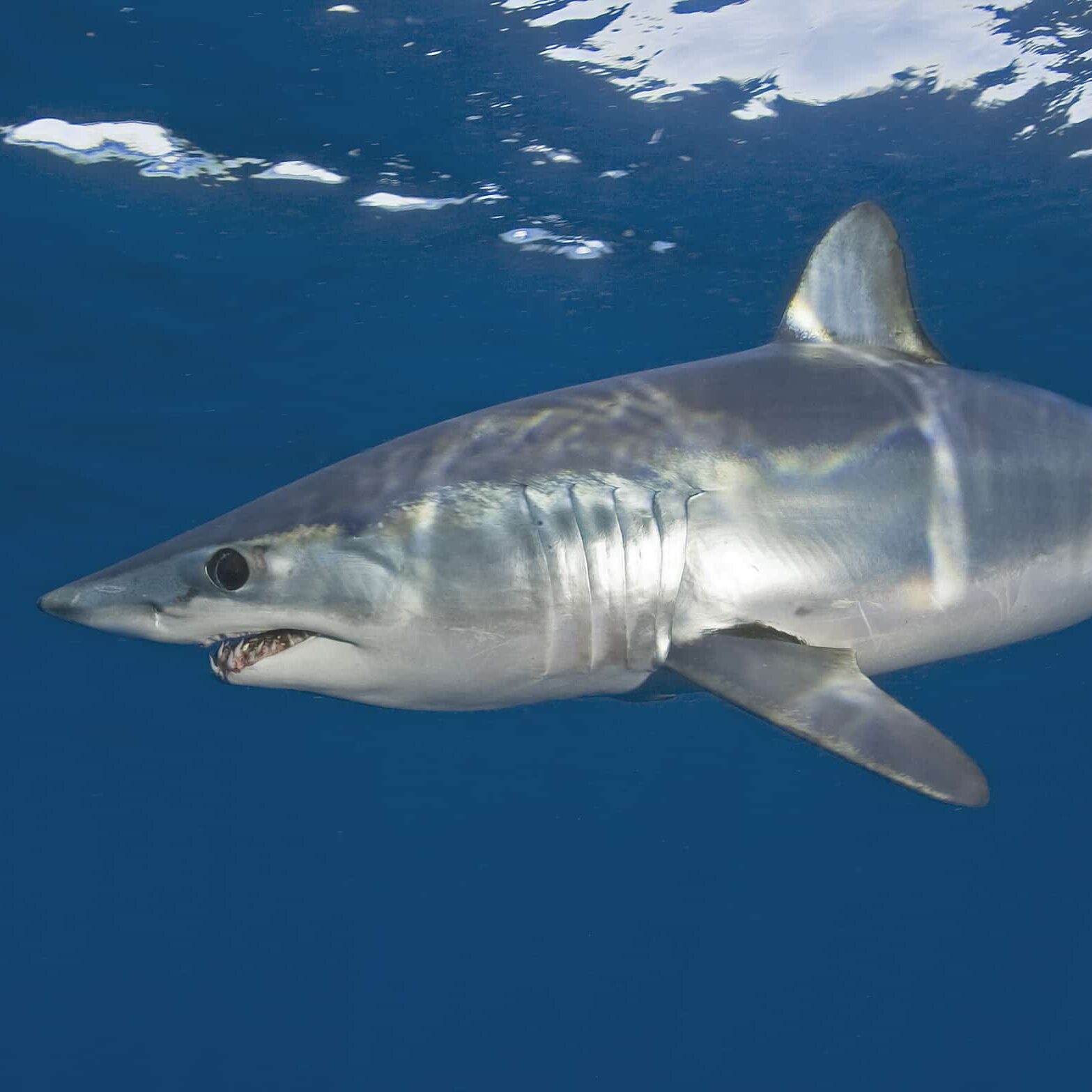 The Biggest Mako we have ever seen!
The highlight of June has been the sighting and interaction with the largest Mako shark we have ever seen. On a beautiful weather day off Cape Point, and just before we were to finish up for the morning, a very large shark appeared in the slick. Chris was in the water at the time and he was actually the first person to spot it from below. It came in with all guns blazing and displaying highly excitable behaviour. In fact, I was so excited, this is only the second time I have ever seen Chris get out of the water due to antics from a shark! After a few moments, and once it had sussed out the scene around the boat, it quietened down somewhat and Chris was able to get back in.
This shark was absolutely magnificent and we estimated her to be at least 3 meters in length as well as sporting a large girth. She was actually so big that she moved just like a great white shark in the water.
Even though she had quietened down, she was still extremely bold and would constantly investigate Chris, which he loved!
In a blink of an eye, 2 hours had passed. It was a very special interaction that we will never forget.
It is interesting to us that after going off Cape Point for more than 20 years, it is only now that we have seen our biggest Mako ever. Looking back on our month off Cape Point, a number of very large Mako's have been seen on our Apex trips, many in the size range of between 2 and 2.5 meters. It's too much of a coincidence so perhaps just maybe the larger Mako's are frequenting the Cape Point waters during our winter months? We don't normally go out here this time of year so it is certainly food for thought…
Whatever happens, going forward we will do our utmost to find sharks and to provide the best solutions and options for our clients.
You may also be interested in Diving with Great White sharks in Hermanus, as well as, Great White shark cage diving in Gansbaai.