It's not rocket science to know that when you remove large predators there are going to be massive effects to the ecosystem from which they are removed. 
I think one of the greatest misconceptions is that there are so many sharks out there. If you look at the terrestrial environment and take terrestrial super predators as an example, if there was a concerted industry dedicated to catching and killing them it would not take long at all to remove all the lions , leopards , hyenas and cheetahs from a major reserve or eco type. Why then does it come as a surprise when a targeted fishery sets its sights on sharks that the results will be both swift and catastrophic for the ecosystem? 
Chris & I have been running our Apex Sharks of Southern Africa Expedition since the early 2000's and over the course of a 10 day period we would normally expect to see and dive with up to 14 different species of shark. A large part of this trip takes place in the De Hoop Nature Reserve which is South Africa's flagship Marine Protected Area (MPA). It has been a proclaimed MPA since January 1985 and its success is hailed by the South African Government and held in high esteem around the world.
Enter Operation Phakisa mandated by our Government in July 2014 which is a fast results delivery programme specifically designed to boost economic growth and increase job creation with one of the outlets being the utilization of the ocean. As a result of this mandate many fisheries were opened up along our coast line. Some of these fisheries are now having a devastating impact on the health of our ecosystem. It is clear very little impact assessment was done on the effects of these new fisheries on the ecosystem and indeed other fisheries. 
One of these was the implementation of 6 demersal longline shark fishing permits in 2014 that would fish our inshore areas between Cape Agulhas and East London primarily targeting Smooth Hound (gummy shark) and soup fin shark (tope shark). Bear in mind at the same time there has hardly ever been a sustainable commercial shark longline fishery anywhere in the world.  Also take into consideration that all around the world countries are now creating shark reserves, they are not doing whatever they can to follow bad examples that have wiped out sharks as South Africa is now doing.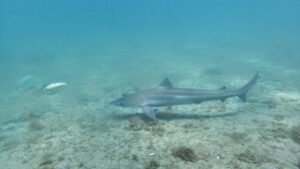 Like all sharks, when compared to bony fish, these shark species mature late and have relatively few young. Unbelievably soup fin sharks can live up to 50 years. As such they are both extremely prone to the collapse of a species if put under severe and heavy fishing pressure.
3 years ago Chris & I began to notice a dramatic decrease in the number of sharks, as well as the variety of shark species whilst diving in the de Hoop Nature Reserve. It would not be uncommon in days gone by to see upwards of 100 smooth hammerhead pups, up to 15 ragged tooth sharks and large schools of bronze whaler sharks in a single day.
Sadly and alarming so, it was almost overnight that the smooth hammerheads vanished and their disappearance was accompanied by a dramatic decline of the other shark species as well. As the longliner started fishing so the sharks disappeared. There is no miraculous recruitment from other areas. Once the sharks are gone, that's it they are gone. Just like if you went into the Kruger National Park and shot out all the lions you wouldn't expect to see more lions suddenly appear.
THIS PAST SUMMER WE HAVE SPENT MOST OF OUR TIME DIVING HERE AND THE RESULT IN 5 WEEKS IS A TOTAL OF 5 SMOOTH HAMMERHEADS, 3 RAGGED TOOTH SHARKS, LIMITED NUMBERS OF CATSHARKS AND ZERO BRONZE WHALER SHARKS.
I don't believe in coincidences so I will say that it is no coincidence that 3 years ago one particular boat with a demersal shark longlining permit, The White Rose, began working on the fringes of the eastern border of the de Hoop MPA. When the authorities created the MPA they did not declare any natural borders but rather just a GPS point on the map. This was a critical error as marine animals have no knowledge of GPS points and will keep moving within their natural borders making them extremely vulnerable as soon as they move out of the protected area. 
The White Rose seems to have perfectly understood this exact situation and has in the last 3 years heavily fished this area, now fishing in concert with another shark longliner making the effort even worse. This boat has also heavily fished other inshore areas along our South African east coast with great success and catch statistics submitted clearly show that this particular vessel and the other mentioned is almost solely responsible for the now collapsed smooth hound and soup fin shark populations. 
A SCARY FACT IS THAT EVEN IF THIS FISHING IS STOPPED WITH IMMEDIATE EFFECT IT WILL AT BEST TAKE MANY MANY YEARS TO RECOVER AND IN THE CASE OF SOUPFIN SHARKS, WE WILL PROBABLY NOT SEE A FULL RECOVERY IN OUR LIFETIME.
Added to this other shark species are now also in peril as a direct result of this fishery's by catch. Whether or not this is by catch or targeted is highly questionable in my mind as these other shark species are also gone. After all how do you stop one shark species taking a bait meant for another? Once these other shark species are hooked they are subject to the same stresses the target species are and in most cases due to the long soak time they will die. We know for a fact that hammerheads in particular die very quickly when caught on longlines as they fight very hard and basically exhaust themselves very quickly. 
AS AN ASIDE SMOOTH HAMMERHEADS ARE CITES 2 PROTECTED SPECIES. RAGGED TOOTH AND GULLY SHARKS ARE BOTH PROTECTED SPECIES IN SOUTH AFRICA AS WELL.

WHAT DOES THIS MEAN? WELL, CLEARLY NOTHING. 
South Africa is a signatory to many mandates where we pledge to protect, regulate and control any directed shark fishery or reduce any threat to the future of these animals. Clearly we are a signatory in ink but not in action. 
When you factor in that we also have the world's largest organized killing operation for great white sharks in the form of the Natal Sharks board you can clearly see protecting sharks is not on our agenda at all. The sad flip side of this is that in a country desperate to create jobs and attract tourists you have the world's most successful non consumptive shark ecotourism industry, that of the great white shark cage diving industry, which has highlighted the value of a live shark as being so many multiples more than one than is dead.   
JUST 3 DAYS AGO ONE OF THE DEMERSAL SHARK LONGLINING BOATS WERE SEEN OFFLOADING BINS OF SMOOTH HAMMERHEAD PUPS IN MOSSEL BAY.
Full carcasses were intact and were being offloaded outside Viking Fisheries. From The Department of Agriculture, Forestry & Fisheries (DAFF) and with reference to Operation Phakisa we have the following quote: "Our primary mandate is of maximizing the societal benefits from fishing activities and doing so in a way that is not detrimental to the long-term sustainability of either target or non-target species and the greater environment". 
As catch statistics and observations are now showing how dire the situation is, concerned individuals in our ocean community are beginning to put heavy pressure on DAFF and are calling for the immediate termination of the demersal inshore shark longlining fishery. But the cogs within government move at snail's pace and we are all extremely worried that delayed action will mean it will be too late to have any meaningful effect. It's hard to comprehend but all this has happened in just 3 short years.
Many scientific studies have proved the extreme importance of the presence of predators in the ecosystem to maintain the fine balance that exists. When these predators are taken out the entire collapse of the ecosystem can take place.  When this happens there will be a knock on effect to absolute everything from consumptive fisheries to non-consumptive tourism related activities. The effects will be catastrophic and all for the creation of a handful of jobs in a fishing sector that brings in very little economic value to South Africa.
South Africa is probably the most famous country in the world for tourists to come out and see a multitude of shark species. Our coastline is unique in that it had one of the highest densities and diversities of shark species anywhere that would have attracted more and more people to our shores but this is all being sacrificed due to apathetic officials and a few greedy fishermen who seem determined to change our marine ecology and landscape forever.
Ironically the saddest thing of all is that the sharks are not being killed to feed a starving nation of desperate people but rather the carcasses are being shipped to Australia, a first world country, for fish and chips. So while Aussies are enjoying their fish and chips our eco systems are collapsing.
The other irony is that the fishery in South Africa is not creating huge amounts of jobs or bringing in massive amounts of foreign income. Rather it is enriching a few already wealthy individuals and creating a handful of seasonal jobs. Quite simply the situation is both dire and tragic at the same time.