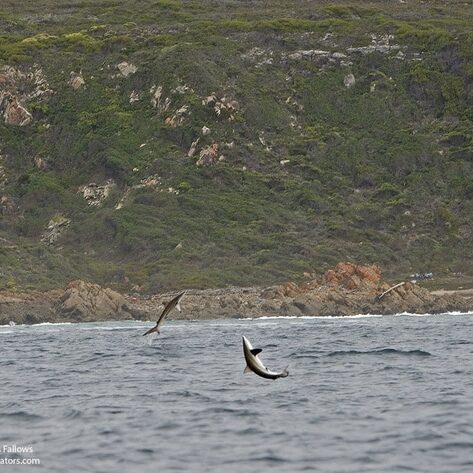 In the last few years, a small group of dedicated conservationists have sounded the alarm repeatedly that South Africa's smoothhound and soupfin shark populations are collapsing.
The reason is this: A fishery by the name of Demersal Shark Longlining (DSL) that has been working along our coastline has been overfishing these sharks on a devastatingly intense basis. Each DSL fishing vessel regularly catches up to 1000 sharks per trip.
The DSL primarily targets Smoothhound and Soupfin sharks and by way of bycatch, also catches and kills CITES-protected shark species such as Smooth Hammerhead sharks and Great White sharks.
Tragically, this shark meat is being exported to Australia where it is sold in Fish 'n' Chips under the name of Flake. To make matters worse, this shark meat is often not fit for human consumption, and contains 14 times the recommended levels of heavy metal content.
Although permits are required for this fishery, it is not sustainably managed by The Department of Environment, Forestry & Fisheries (DEFF).
DEFF imposes no catch limits; no size limits; and requires no observers on board. Despite our best efforts to engage with the DEFF, our pleas have landed on deaf (pun intended!) ears. DEFF's own scientists have also systematically warned their management of this collapse and have recommended various restrictions be put in place to better manage the fishery since 2011. And yet they take no action.
The science is very clear: at these current rates, not only does SA stand to lose its most iconic shark species, but this in turn is having a devastating impact on the tourism industry, on our economy and our ecosystem health. Removing apex predators is never a good thing.
Working with the media, a lot of people have managed to get the word out (see links below), but we need to apply even more pressure on DEFF. We are very close to getting this right, but we need one final push.
AND HERE IS WHERE YOU COME IN
Support our Shark Free Chips conservation campaign.
Please visit www.sharkfreechips.com to see the Calls to Actions that include applying pressure to Government by tweeting the South African Minister and also to start making sustainable fish choices.
For your convenience you can use the Tweet tool to directly send Minister of Environment, Forestry & Fisheries, Barbara Creecy, a message asking her to act. The website contains all the relevant facts and details about this issue, and we encourage you to read through at your leisure.
Media exposure:
Flake 'n Chips – Carte Blanche 19 April Episode
Why have the great white sharks disappeared from its traditional hunting grounds – CNN
Carnage on the seas – The Sunday Times
The danger of Fish and Chips Down Under – The Daily Maverick
Shark Mystery – Yale Environment 360
AS AN INDIVIDUAL YOU CAN MAKE A DIFFERENCE AND AS A COLLECTIVE, WE CAN MAKE CHANGE!
We thank you for your support and lending your voice to this urgent cause.