February 2017
Back in 2002, Chris and I spent our honeymoon shark diving on a liveaboard dive boat at Tiger Beach and Bimini, in the Bahamas. 15 years ago the shark dive operators here were just starting to become successful in finding, and scuba diving with Great Hammerheads and Tiger Sharks. We had a great experience diving with one of the ocean's most iconic shark species, The Great Hammerhead. This most recently evolved of all sharks left such an impression on us, that when an opportunity this February came up, we jumped at the chance to see it again. On top of this I had never seen a Tiger Shark, so it was with extreme excitement that we made the long journey over the Atlantic and finally to our port of departure, West End on Grand Bahama.
Explore Tiger Beach and Bimini in the Bahamas
20 years ago The Bahamas banned shark longlining and about 6 years ago all shark fishing was banned. The result of this is a very healthy population of a variety of tropical shark species in their waters and as a reward, ever growing numbers of shark diving tourists, which obviously help their economy. In fact shark tourism here contributes in a far greater way to the economy than shark fishing ever did.
Shortly after our trip in 2002, Jim Abernethy discovered the now famous "Tiger Beach". This is a shallow bank about 40 miles from Grand Bahama and throughout the year it is a very reliable area to find high numbers of Tiger Sharks.
We were joined on this trip by our very good friend from The University of Miami, Dr Neil Hammerschlag. Neil has been studying the sharks in this area for 7 years and it was great to not only be able to share these special shark dives with him, but also have his insight as to how the area works and learn about the individual sharks he has come to know over the years.
Most of the tiger sharks here are mature females and the theory is that the pregnant females come to these warmer waters to ease their gestation before moving off to give birth at their pupping grounds in the Atlantic. The warmer water means that they are able to speed up their gestation period.
It is further surmised that the younger females, and females who are not pregnant also come here as the low presence of male sharks means they have less harassment from them.
This is fascinating behaviour and you can read more on this research by Dr. Neil Hammerschlag and his team at UM below. They have even successfully used ultra-sound on these pregnant females sharks.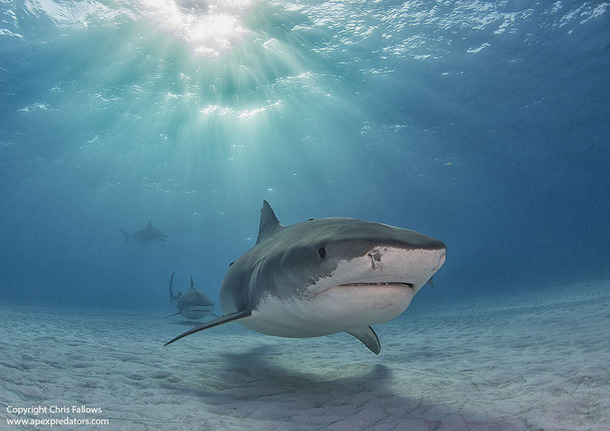 We arrived at Tiger Beach just before sunset on our first day. By dinner time we already had 2 tiger sharks circling the boat. I couldn't believe the short wait I had to see my first Tiger shark!
We woke up the next morning to windy and rough conditions. It is winter here after all and for most of our trip we were to struggle with poor weather conditions. Never the less, and with the onset of seasickness, it was decided it would be a good idea to do our first shark dive, get our buoyancy all sorted out, and most importantly, get off the boat to avoid vomiting!
All the dives are baited shark dives and the divemasters/shark handlers go down first with a crate of bait and start to attract the sharks. It didn't take long at all for the first tiger shark to show up and we were in for our first dive. The dive master will set up the bait crate and the divers then basically just sit on the bottom up current and watch the sharks approach and circle around. From a diving point of view it is as easy as that. Our shark guides, Mike & Jamin , are amongst the most experienced in the area having both been involved for roughly a decade. What was most noticeable with both of them was not just their passion for the sharks but also the respect with which they interacted with them.
Coming from the cold temperate waters of Cape Town often with poor to average water visibility the contrast to what we were seeing and feeling was incredible. The water was a balmy 22C to 24C and visibility was 30 meters, it felt as if we were diving in an aquarium.
Best of all, not one, but four tiger sharks were down there to welcome us to Tiger Beach! They were also massive sharks, the largest being about 3.8 meters in length.
Because I have never spent any time with Tigers and because they have the reputation of eating everything and anything in the ocean I was expecting a different animal to what I found.
True, they are built like a tank and they are huge bulky animals but they move very slowly around the bait crate. I found them to be very gentle and certainly not approaching the divers or crate in any aggressive fashion.
The conditions on that first dive were challenging with the surge throwing us all over the place. It didn't matter to me though as I was totally transfixed watching these 4 gorgeous sharks as they effortlessly and majestically cruised around us.
All too soon our dive was called off due to the poor conditions and we lost the rest of the day. It was ok though….we were already on cloud 9 after the Tiger sharks we had just managed to dive with.
IT CAN BE A LITTLE UNNERVING TO HAVE ALL THESE LEMON SHARKS CONSTANTLY BRUSHING UP AGAINST YOU AND YET STILL FEEL LIKE YOU NEED TO KEEP WATCHING THE TIGERS!
The following day we had beautiful weather and great conditions. Water clarity was perfect and on the 3 shark dives we did that day, all dives had 3 to 5 tiger sharks.
The surprise package were the Lemon Sharks… there were tons of them!
Because of the baited situation the lemons are here first thing in the morning, all day and still till last thing at night.
You really had to be very aware of what was going on around you descending. It was very important to keep your eye on all the tiger sharks at all times. Even though they weren't aggressive they would still come right up to you and you needed to be aware in case you needed to push them away. On top of this, we would have up to 30 lemon sharks in the mix. The very experienced dive masters do advise to keep your eyes more on the tiger sharks and not to let the lemon sharks distract you BUT it can be a little unnerving to have all these lemon sharks constantly brushing up against you and yet still feel like you need to keep watching the tigers!
The Lemon Sharks provided highlights in many different ways. One of the best is what our team termed "Lemon Snaps". The Lemon Snaps kept us busy by starting early at sunrise and went the whole way through to sunset when we were trying to make the most of the interesting light.
All one had to do was dangle a piece of bait at the back of the dive step and the gang of lemon sharks would be all over it.
They are very social sharks and don't mind being in very close company of one another. When they were at the back of the boat they would be all over one another: heads, mouths, noses, tails and bodies all a swirling mish-mash together. Interestingly they also weren't aggressive at all to each other, just very competitive.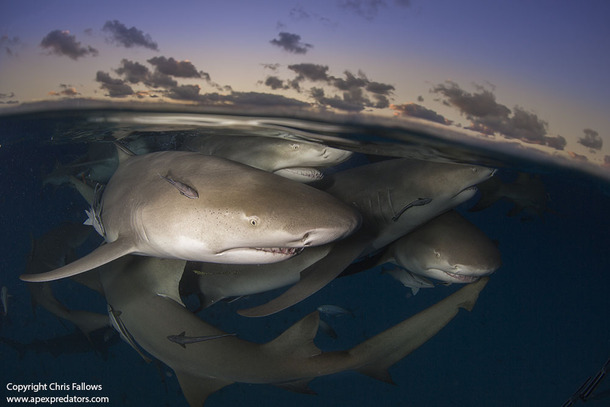 In order to help make the dives a little less frenetic someone on the boat would bait the lemon sharks at the top in order to try keep the numbers down below to a manageable level. Just being on the boat during a dive rotation and watching the lemons was fantastic, and Chris managed to capture some beautiful images of this situation too.

One thing that did leave me disconcerted at the end of every dive was having to ascend through this mass of Lemon sharks in order to get back to the boat, a bit hairy to say the least!
After one of my best days of shark diving ever we left Tiger Beach for the 10 hour boat ride overnight to Bimini. The draw card here was Sphyrna mokarran, The Great Hammerhead shark. For the last 5 to 6 years another friend and fellow photographer who was on board with us, Joe Romeiro, has really perfected how to get the great hammerheads up and how to keep them around, something which has previously been very difficult to do. Having Joe's expertise on board was invaluable to our success.
As I mentioned before, the Great Hammerhead is one of the greatest animals on the planet. It is very recently evolved and is highly intelligent. Its two highly characteristic features are a huge dorsal fin that stands 3 feet tall, and a fascinating cephalofoil that creates its crazy hammer-shaped front. A beady eye sits on each side of the hammer watching…it's a perfect species!

We had a fairly long wait for our first hammerhead but eventually in the early afternoon we had our first visitor. The Great hammerhead and the tiger shark could not be more different.

Where the tiger shark is built like a military tank, the great hammerhead is like a sleek, fast sports car. Where the tiger shark is slow and predictable in its movement, the hammerhead appears highly strung and darts in and out with great speed. It is highly manoeuvrable and can turn its long body in quick, fast and highly agile turns. It's a dynamite animal and immensely impressive.

We did have another couple of hammers come in but unfortunately the weather closed in on us and bad weather meant we lost the next 2 days of diving. Although my time in the water with the great hammerhead was brief I can tell you it was a life highlight, and a great privilege to have shared time in the water with this amazing animal.
The bad weather finally cleared leaving us a final afternoon and a morning back at Tiger Beach with good conditions before the end of the trip.
The bad weather must have messed up the rhythm a bit and our first dive back in the water produced no tiger sharks. However, it was a great opportunity to really observe and appreciate the lemon sharks as well as the Caribbean reef sharks that were also present. The lemon sharks are as big as they get at about 2.5 to 3 meters in length and are really "sharky" looking sharks. The Caribbean reef sharks are just plain beautiful!
The tiger sharks were back for our second dive that afternoon and we had 4 constantly cruising around. Conditions were magical with the late afternoon light streaming down through the water column. Not knowing what the morning would bring I tried to take in each pass and every moment.

Chris would later do a night dive that he described as his "best shark dive ever". I can't do it justice having not participated but you must read about his experience here.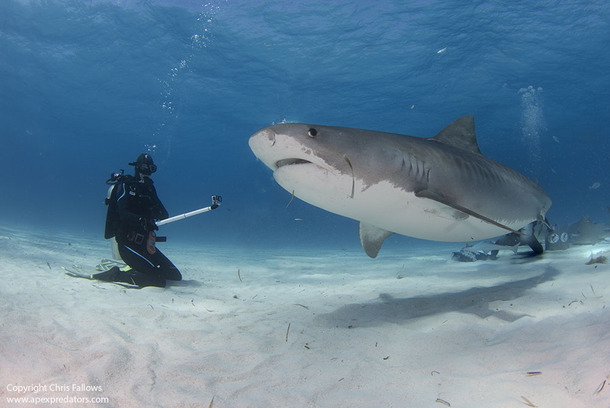 On our final morning we only had a very short amount of time before having to up anchor and make it back to Grand Bahama for flights. Even though it meant flying back with wet wetsuits and dive gear I wasn't going to let our last opportunity pass by. It was also the flattest sea we had had so far, and the best water visibility.

Chris & I went down and for most of the dive we were surrounded by Lemons and reef sharks. It was another great opportunity to really take them in.

Finally towards the end of the dive one of the very well-known tiger shark females, Pickles, arrived. It was our only dive with just a single tiger and as such, it gave us a great opportunity to just sit back and really take in this magnificent shark as she slowly cruised by on many multiple passes showing off her bold, beautiful stripes.

Finally it was time to surface and head back to land.
I honestly can't think of a better shark dive in the world: easy diving conditions with blue water and excellent vis, sharks on every dive making constant close passes and of a multitude of species including tigers and great hammerheads that are without a doubt amongst the super sharks of the ocean.

Our week in The Bahamas will be a shark experience I will never forget and the time spent with those huge sharks most certainly a life's highlight for me.

A big thank you to Joe for making this trip happen as well as the other likeminded guests Ron, Erin, Hannah and John who were a pleasure to share the experience with.