Shark Sightings, Cape Coastline
From the end of July, the Sevengill sharks began returning back to Seal Island, and a steady increase in numbers of sharks was seen well into October.
Chris & I joined one of our shark diving trips to Seal Island in early October, just after we had returned from Zimbabwe. We had no less than 10 different individual Sevengill sharks! After being away for two months it was great to not only be back on the ocean but also to be reminded of just how amazing these sharks are. I think what I love most about them is that they are so interactive around the boat and cage, and most stay for long periods of time. In this blog, we discuss the shark sightings along the Cape Coastline in 2019.
Shark sightings along the Cape Coastline in 2019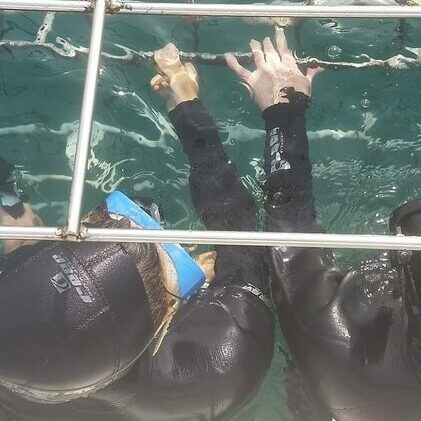 For anyone wanting an intense and engrossing shark encounter, these guys really fit the bill. The animals we saw were between 1.8 meters and 2.5 meters in length as well as having a very stocky build. They were very large animals indeed. The water visibility was about 5 meters and clean green in colour, so whilst in the cage, the diving experience and underwater viewing were excellent. Topside the viewing was also very good and the sharks were almost constantly up at the surface.
Towards the end of October the sightings slowed down a little but we expect more and more Seven-gill sharks to pull into Seal Island to coincide with the Cape fur seal pupping and breeding season. We think the opportunity to scavenge feed on afterbirth, dead pups, and other dead seals are the main drawcard at Seal Island.
In 2018 our Sevengill shark numbers peaked over the December and January period along with a good number of Copper sharks (bronze whaler sharks) also being seen. With the onset of summer, warmer water will begin to come into False Bay bringing with it normally good to very good water clarity. Perfect conditions for Shark Cage Diving in Cape Town this summer!
As we approach November we are very much looking forward to observing the seal colony on Seal Island. November and December are the breeding and pupping months and the seal colony numbers can rise up to 90,000 strong. This is also the time of year to see the adult males setting up their harems and great behaviour can be witnessed as they fight for dominance.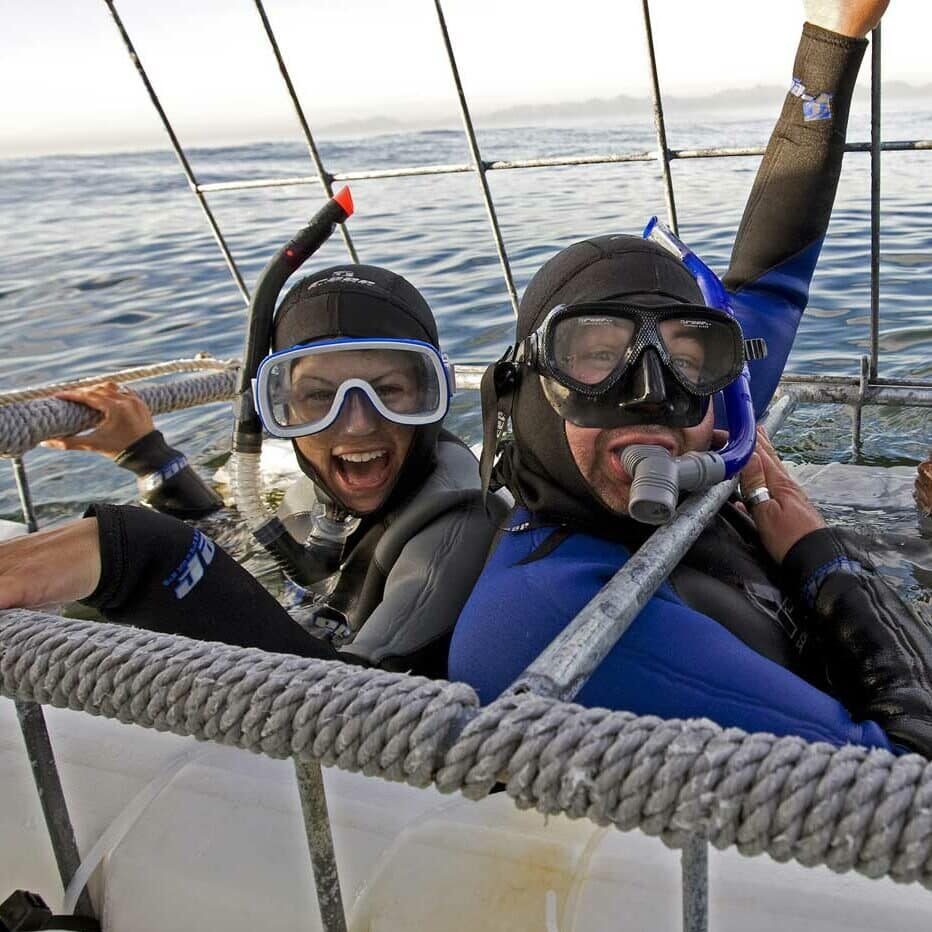 In October we also did our first Cape Point Shark Trip after a couple of months. At about 15 miles out of good water, visibility was found (about 10 meters visibility) along with a very inquisitive Blue Shark that stayed around for most of the trip. Dusky dolphins were also seen en route. Again, as summer approaches we expect the numbers of Mako and Blue sharks off Cape Point to increase and we are looking forward to doing more of these trips too.
In Gansbaai, a small number of Great white sharks are still being spotted which is fantastic news, and long may it last. High numbers of Copper sharks are also being seen here. There have been a number of trips where Great white sharks were not seen but this seems to be normal activity as we head into October, November, and December. What's interesting to hear is that when numbers of copper sharks are very high, it seems to keep the Great white sharks away from the shark cage diving boats and they behave in a pretty wary and skittish manner.
Good numbers of Great white sharks in Mossel Bay are still being seen and for those who are specifically wanting to see a Great white shark, we have been recommending our guests to this area. Historically, Great white sightings decrease when the operator here is restricted to working further along the coast and inshore over the peak holiday season. For those of you visiting Cape Town over December and January and are looking for a good quality shark interaction/experience, I would really recommend the Sevengill shark dive at Seal Island. We depart from Simon's Town which is only 45 minutes from Cape Town. Additionally, we are just a few minutes from Boulders Beach Penguin Colony and 15 minutes from Cape of Good Hope. So, you are able to really maximise your day.