July has certainly been an interesting and productive month filled with many highs. With the ever-shifting distribution of Great White Sharks in Cape Town, South African waters, Apex has focused its attention on taking our expedition-style groups to locations where we know the best activity is taking place, at the time and this has paid huge dividends.
On the home front in False Bay, we have likewise focused on providing the best possible shark experience for our guests by working with shark species availability and weather conditions on the day.
We have thus placed a lot of emphasis on focusing on a broad range of other amazing wildlife spectacles that are often overlooked during the Cape winter months and have introduced these highlights into both our long stay packages and one-day trips with great success. We look at shark cage diving in July 2019.
Cape Point Trips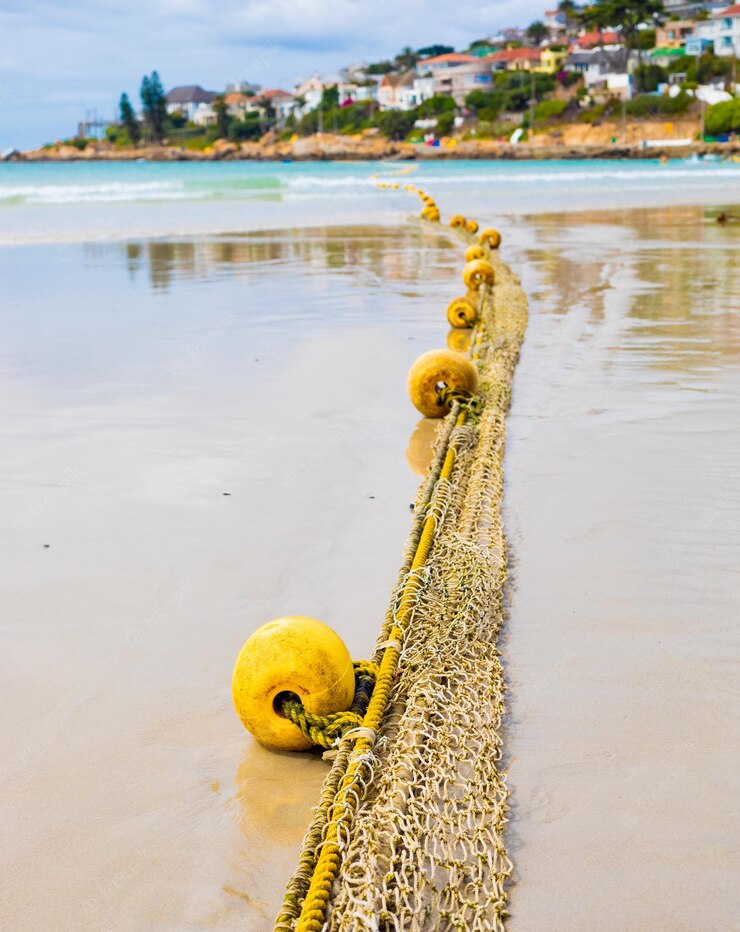 In July we did more than half a dozen offshore trips into the deep open ocean water off Cape Point, which lies adjacent to the South Western Tip of Africa, the Cape of Good Hope. The target species out here are Mako and Blue Sharks.
Apex was the first company in South Africa to run these pelagic shark tours way back in 1999 and historically we did so primarily in our summer months. This year we have done a lot more deep ocean tours in the winter months than ever before and have had fantastic shark sightings. Using high-tech sea surface temperature charts coupled with an extensive understanding of water, wind, and environmental conditions, our Captain Ryan Miller and the experienced Apex crew found Mako and blue sharks with a 100% success rate on every trip with many Mako sharks well over 2.0m in length. We also saw many large blue sharks, some being over 2,0m in length. During the summer months we are generally seeing smaller sharks, so it has been a tremendous surprise to see these larger animals during our winter months.
An added bonus was that whilst most great white shark cage diving trips take place in water with visibility of less than 2-3m, the visibility on many of our Cape Point trips was upwards of 20m (65ft) which made for spectacular shark diving encounters and photo opportunities.
On most of our Cape Point tours, we encountered outstanding numbers and diversity of pelagic birds with at least 3-4 species of albatross being seen. Excellent cetacean sightings were to be had, with up to three species of whales and sometimes two species of dolphin being encountered whilst en route. Humpback whales are currently migrating up the east coast of South Africa and as such, we saw these athletic whales on all of our trips off Cape Point as well as the first Southern Right whales arriving to mate and calve. Approaching winter storms often have beautiful days leading up to them and on many of our trips rounding Cape Point's interesting atmospheric conditions delivered spectacular photo opportunities.
Judging by what guests enjoyed, we would have to say the Cape Point sharks of Makos and Blues in good water visibility and with great interactions around the boat and cage, were at least as popular as the very special great white sharks.
Expedition Trips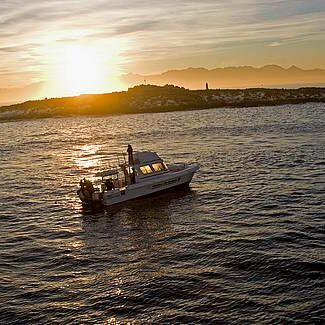 Our specialty 10-day Predation Expedition and early July 7 day package at this time of the year, focus not so much on shark diving, but rather on the spectacular breaching and predation behavior that Apex has specialized in for nearly 25 years.
Although Great White shark sightings have not been nearly as predictable as in previous years, being flexible and offering small personalized group sizes meant that we could be flexible in terms of choosing the best shark location. As such on both our breaching and predation trips we were able to see spectacular activity and get some great images by monitoring where the best sightings and behavior were being seen and then target these areas.
Any great white shark breach is amazing but some obviously stand out with one particular breach being truly exceptional. Sadly, however, Chris managed to chop the tail off the shark as it jumped right out of frame.
On our Predation Expedition we started off with 3 very good days of the weather off Cape Point and in this small group environment, we were able to focus on photographic opportunities with Mako and Blue Sharks. Both species were seen on all 3 days, the largest Mako shark being 2.5 meters and the largest Blue shark being just over 2 meters. Water visibility ranged from 8 to 20 meters.
For the remainder of the expedition we relocated further up the coast where we had no less than 13 breaches on the decoy and upwards of 20 predatory events. The white sharks here are smaller than the False Bay sharks we have generally seen over the years and we sometimes think these smaller sharks are far more enthusiastic and energetic than their older and larger counterparts.
Most notably on the predatory events, the sharks often miss the seals by very big margins, and the predatory breach often has massive air time. Over the week-long period, we recorded 24 events predations with just one event being successful. I know this is over a short time period but that is a very low success rate compared to the just under 50% success rate at Seal Island.
Our feeling is that perhaps these sharks are still just learning the fine art of catching seals, and they have not quite yet understood the output of energy versus reward. Whatever the actual situation, it was hugely exciting and spectacular to watch.
Robberg Peninsula, Plettenberg Bay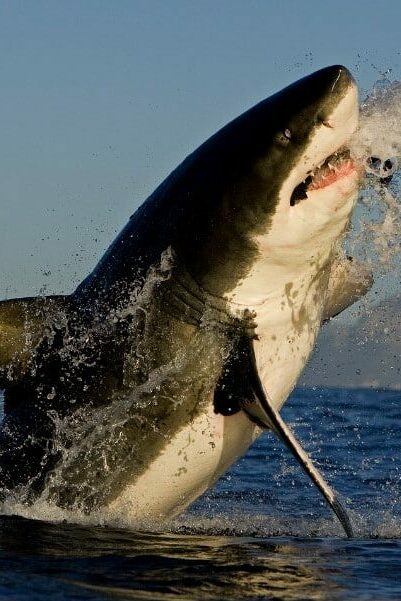 Both Chris & I are currently working on a Great White Shark natural predation study in Plettenberg Bay to compare to the 23-year Apex study in False Bay.
The study is being conducted by two Masters' Students from The University of Miami, Lacey Williams and Alex Anstett, and is overseen by ourselves and world-renowned scientists Dr. Neil Hammerschlag, also of the University of Miami, and Dr. Enrico Gennari of Oceans Research. We also are working closely with local shark naturalists, most notably Bruce Noble and charter operators who are doing their best to protect these animals.
The cliffs in this area offer an amazing chance to observe marine wildlife behavior in a completely undisturbed way and when we visited with our expedition guests we did see many natural interactions by a multitude of species that were fascinating to watch from the unique point of view that this venue offers. For those of you who watch Shark Week be sure to watch the latest Air Jaws show, Air Jaws Strikes Back, which is primarily focused on the incredible interactions that can be seen from this venue.
To read further about this incredible and relatively new great white shark location, please have a look at Chris's Air Jaws: Cliffhanger blog.
For anyone who is going to be visiting Robberg, Dr. Hammerschlag has just developed a very exciting citizen science App whereby you can actively contribute to any sightings you may have at Robberg. Download the app here.
Sevengill Sharks at Seal Island
On 25 May-Port and Starboard, the shark-hunting Orca caused havoc at Seal Island. The multitude of Sevengill sharks that we had been seeing was either preyed upon or simply fled the Island and for the following 6 weeks, there were none to be seen.
However, in the last week of July, I am thrilled to report that we are starting to see their return! Hooray!! Our much-loved Sevengill sharks have been seen on all trips in the last week with numbers of 2 to 4 sharks per trip. Going into August we are very much looking forward to working with these highly interactive sharks.
We also discuss cage diving for great white shark in Mossel Bay.