Any dive with sharks in the deep blue sea is an incredible adventure and an extremely spectacular experience that will never be forgotten. Our company offers cage diving with the remarkable Great White sharks at Seal Island, Cape Town as well as scuba diving with magnificent Blue and Mako sharks in the deep. If you are an adventure seeker, passionate about nature, and not afraid to try something new, then this trip is for you! The trip starts by meeting at the Apex Shark Expeditions office in Simon's Town. From there it is approximately a two – three-hour trip, 20 miles south of Cape Point to our destination.
While traveling, there is the possibility of seeing many species of pelagic birds including albatross such as the Black Browed, Yellow-nosed, Wandering, and Royal albatross, and a variety of Shearwaters, Terns, and Petrels. Other marine mammals that we see occasionally are the Humpback, Southern-Right, Pilot, Sperm, and Brydes whales. Dolphins such as the Common, Bottlenose, Dusky, and Risso's dolphins are also seen.
An interesting fish that we see sometimes is a sunfish (Mola Mola). This sunfish is the heaviest known bony fish in the world. As an adult, it has an average weight of between 247kg and 1000kg. It resembles a fish head with a tail, and its main body is flattened laterally. Their diet largely consists of jellyfish, which they eat much of as jellyfish are nutritionally poor. The females are known to produce more eggs than any known vertebrate; up to 300 million have been recorded at a time from a sunfish. The skin of a sunfish contains more than 40 species of parasites which keeps the fish busy exploring many ways in which to get rid of them. This includes swimming into drifting kelp fields which contain fish that remove dead skin or parasites from its body. Even birds have been observed to help relieve the fish of its parasites.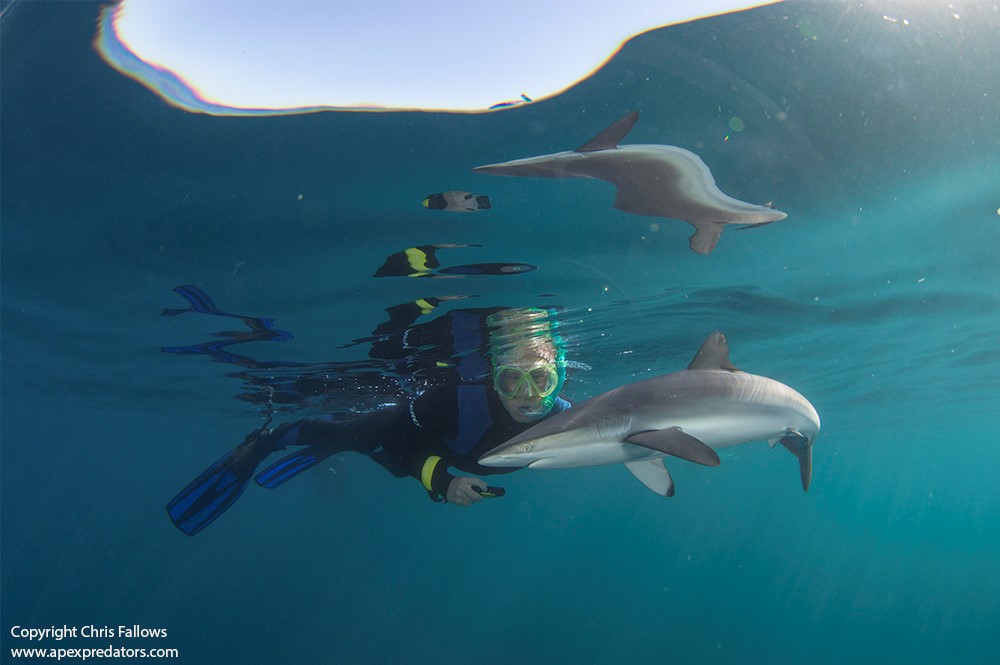 DIVING WITH UP TO 15 BLUE SHARKS IS FAR MORE LIKELY!
Now, let's plunge into detail about the sharks that you will dive with, the Shortfin Mako and Blue sharks. The Shortfin Mako shark is a fairly large species of shark, reaching a length of up to 4m. This shark is cylindrical in shape with a vertically elongated tail. This species is metallic blue in colour dorsally, and white ventrally.
The juveniles differ in that they possess a clear blackish stain on the tip of their snouts.
Blue sharks are personally my favourite to dive with because one will not simply see one Blue shark at a time. Diving with up to 15 Blue sharks is far more likely! These sharks can grow from 1.82m to 2.82m, and they are elongated and slender in length and possess a pointy snout with big black eyes.
Join us on an adventure. Make a booking today.
This experience is a once-in-a-lifetime opportunity as you get to experience nature at its best.
You may also be interested in our other articles, Diving with Great White sharks in Hermanus, as well as, Celebrating False Bay in Cape Town, South Africa.