Experience Cage Diving with Sharks
It was eighteen miles off Cape Point when we found them – two Blue Sharks and a Mako. We'd encountered an early morning mist which seemed reluctant to ease as we ventured further south from False Bay, but now we'd struck marine gold.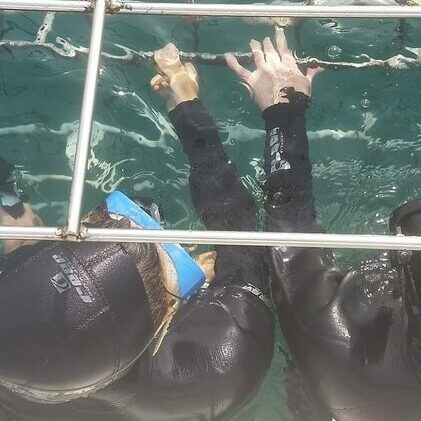 Visibility was improving, and with guests in the cage and the swell seeming to ease, the sharks arrived exactly on cue. The Great White shark is so iconic, so beautiful, so majestic, yet today was all about the Blue and Mako Sharks; every bit as beautiful in their own way.
The Blue sharks colouration is so striking, especially from above as I peered down from the rear platform of the vessel, marvelling at its pearlescent-blue glow. Curious, endearing, seemingly so friendly that one could perhaps even stroke them. The Mako, however, though equally beautiful and stunningly streamlined, has a more mischievous nature, and one born through its unswerving self-confident hunting capability, founded on stealth and breath-taking speed. To many, it is the most beautiful shark of all. For me, it is hard to distinguish, yet like with the Great White I certainly know my place in terms of who's the boss. Come experience cage diving with sharks for yourself.
THE GREAT WHITE IS SO ICONIC, SO BEAUTIFUL, SO MAJESTIC, YET TODAY WAS ALL ABOUT THE BLUE AND MAKO SHARKS; EVERY BIT AS BEAUTIFUL IN THEIR OWN WAY.
The Blue sharks bask within the chum line, occasionally diverting to nuzzle and nudge the engine's dormant props.
The guests are thrilled as the circuit they maintain brings them right in front of the cage. The Mako follows suit, not wishing to be outdone, but then, with a flick of its powerful tail, it disappears into the deep. We hope it will return and I have a feeling it will, from the depth; when it's ready, and from an unexpected angle to again steal our breath. But until such time, we continue to share the wonderful interaction with the Blues, to which the guests 'whoop' and cheer. And now, from stage left, a Cape Fur Seal joins the party, perhaps diverting from its way back to Seal Island after hunting. Everyone enjoys its playful pirouettes through the water, seemingly even the abundance of wonderful pelagic birds, including Gannets, Skuas and Albatross, that we are privileged to enjoy.
THE WATERS AND SKIES OF SOUTH AFRICA HOST A BOUNTY OF MARINE LIFE.
Every day we are privileged to see something new while shark cage diving, and we hope one day you can join us, out on the water on board White Pointer 2. The bounty of Cape Town, South Africa awaits you too.
And meantime, again right on cue, the awesome Mako returns…