So, the Festive Season has come and gone and in our case in False Bay I feel as though we have been blown into a new decade with severely strong winds!
Needless to say, it is going to be a crucial decade ahead for the conservation of Planet Earth and I strongly feel each and every one of us need to become aware of our choices and make changes in order to start living more sustainably. That is my goal and I hope that many of you will be feeling the same way.
In this Festive Season shark cage diving report we have updates from False Bay, Cape Point, Gansbaai and Mossel Bay; a short report back on our Australian trip and thereafter a unique visit to a very special place called Lekkerwater! Shark cage diving in December and January 2022.
Festive Season Shark Cage Diving in December/January 2022
False Bay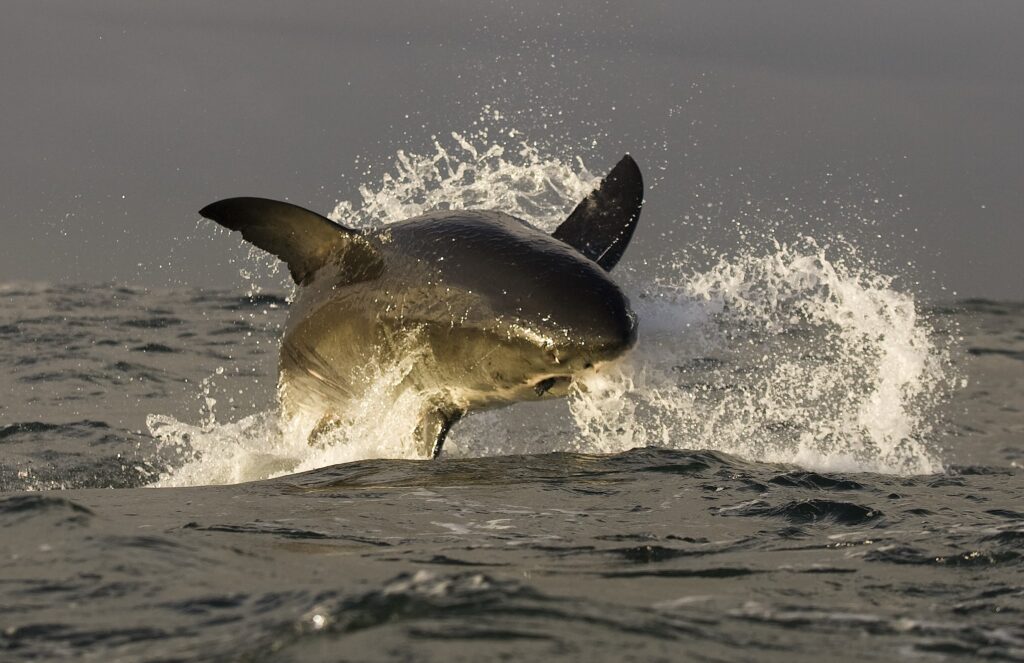 The big news on everyone's lips is that we had a very large 4 meter Great white shark at Seal Island visit the Apex Shark Expeditions boat on 7 January! When we received the phone call from our Skipper, Ryan, I practically dropped the phone in excitement when he relayed the news. It has been 20 months since our last Great white shark sighting so you can understand why our crew were almost more excited than the guests on board. I guess one never knows what is going to happen and the sighting is especially surprising since in years gone by we would never see great whites at the Island this early in the year.
Shortly after this, an aerial survey was undertaken by Dr Alison Kock of SharkSpotters and she spotted a 4 meter Great white at Maccassar (inshore of False Bay). This was possibly the same animal that Apex saw at Seal Island. Excitingly, numerous Bronze whalers, Hammerheads and Stingrays were also recorded during the flight.
We hope that this is the start of other animals returning to Seal Island.
In the meantime we have had a fantastic summer of shark diving with Sevengill and Bronze whaler sharks at Seal Island. Unfortunately we have had a lot of severely strong winds to contend with and especially between Christmas and New Year we had to cancel many trips. We then got a good 10 day reprieve where we made the most of getting out to sea.
The first day or two back on the water were a little quiet but once the conditions settled down we had good sightings and cage dives with Sevengill sharks in very good visibility. Good visibility means the water is clear and for a shark cage diving experience one can see the sharks much more clearly when one is submerged in the cage.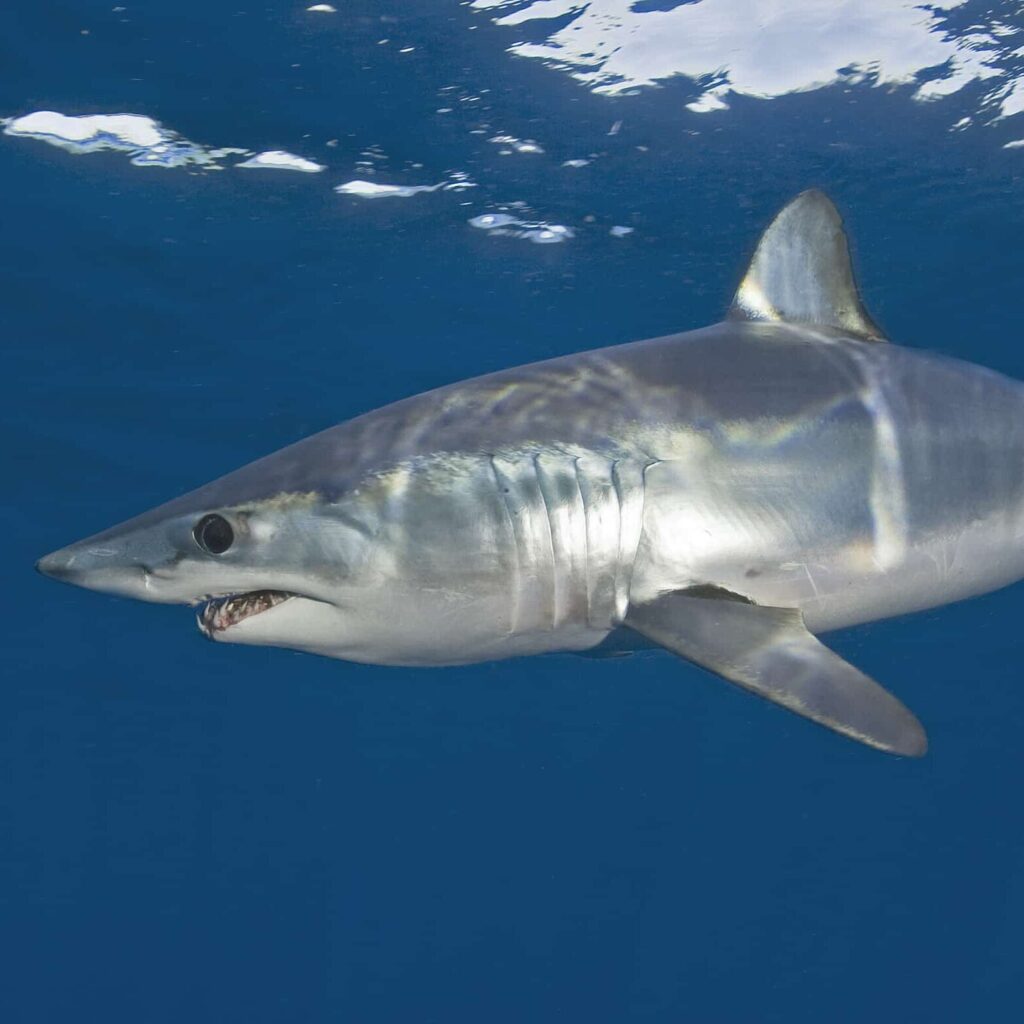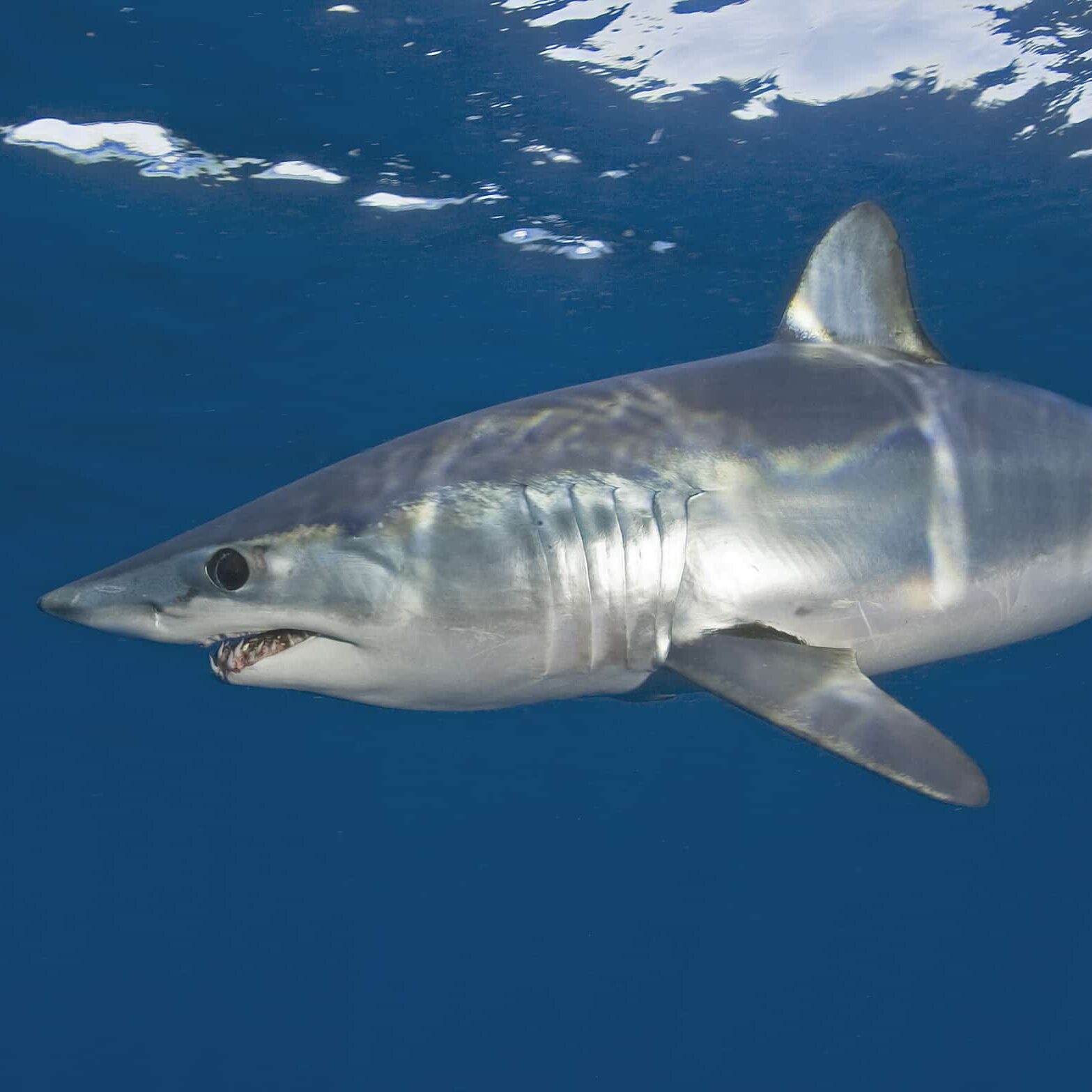 The water has also been very warm for us and with an ocean water temp at just under 20C we are loving Summer! The Bronze whaler sharks are also evidently loving the good water conditions and the last 5 days of trips have been full up with Bronze whaler sharks around the boat. This has meant seeing less Sevengill sharks but with the Bronzies being so highly interactive, staying around the boat and cages for most of trip, the trips and shark experiences have been fantastic!
Added to this we have seen schools of Common dolphins on many trips making for an all-round marine safari that shark cage diving Cape Town is famous for.
We currently have a very large high pressure system sitting over Cape Town and this has kept us off the water again but we hope to be back out there soon.
Gansbaai and Mossel Bay
Gansbaai continues to have good shark cage diving with Bronze whaler sharks and they also had a brief sighting of a great white shark in Gansbaai last week. It was a very large animal at 5 meters. Although it has not been seen since, it is great news that there are perhaps a few large Great white sharks along the Southern Cape coastline.
In Mossel Bay, the operator here is not able to work at the Seal colony over the holiday period and needed to work at the inshore area. Since November they have not seen a Great white but it will be interesting to see if sightings improve once they are back at the Island.
Cape Point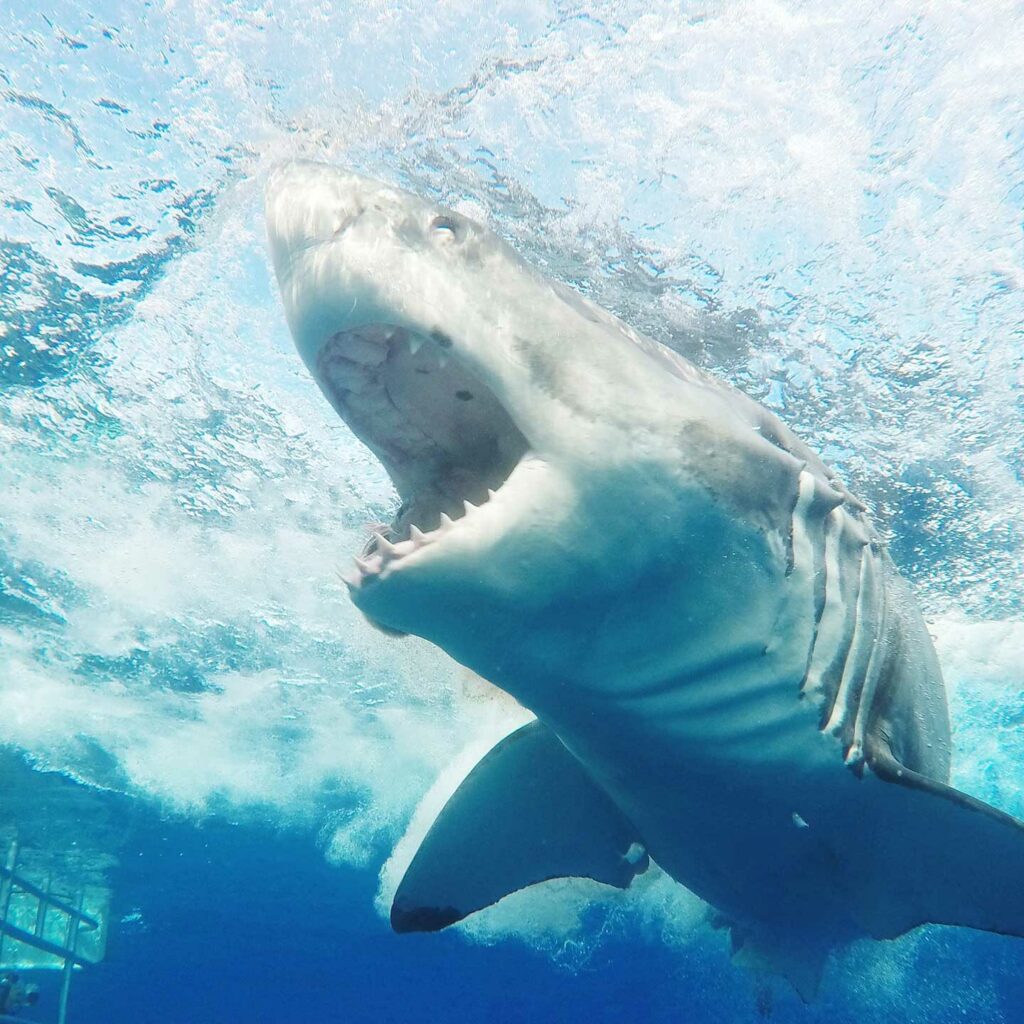 We have had a real struggle with the weather the past 6 weeks but we were able to get off Cape Point in good conditions on two occasions. Not far off the point we encountered hundreds of sea birds… Cory's shearwaters, Cape Gannets, Sooty shearwaters and White chin petrels to name a few. Food, in the form of sardine, was evidently present.
And then of course on the horizon Chris spotted a lot of white splashing… dolphins!
They turned out to be a very large school of about 2000 common dolphin and although they were very spread out, it was still an incredibly impressive sight.
Once they started balling the schools of sardine, the Cape gannets would flock to a working ball. It has been a long time since we have seen so many diving gannets. I never tire of the sight of that bird tucking its wings in at height and moments later plunging into the bait ball at tremendous speed.
Many of the bait balls were fairly sustained so Chris was able to spend quite a bit of time diving amongst the feeding event.
As always, it's a terrific experience heading off Cape Point and into those highly productive waters it is home to.
Great White Shark Expedition to South Australia
The last time I was in touch with you I mentioned we were heading to South Australia on a Great white shark expedition. When I wrote it, I nearly caught myself as I sometimes feel it is bad luck to make mention of a trip before it has begun.
Yup, I was right!
We were so incredibly excited to visit the famous Neptune Islands down off South Australia where shark cage diving all began. I guess you could have called it a kind of pilgrimage.
We had chosen our trip in December not only because they had never missed seeing sharks in December for their entire history, but the warm and clear summer waters at the Islands meant we should have great water clarity and very good opportunities for photographs.
Well, sadly it was not to be, and we ended up not seeing a single Great white Shark during our 8 day expedition. I will never say that I was disappointed at not seeing a particular animal because we fully understand how nature works and that nothing is ever a guarantee, but I have to say that I was pretty devastated at not seeing a Great white here.
It is extremely worrying at how difficult it is becoming to see these iconic predators. The locals did not seem to have any clear ideas on why there were no sharks so I'm afraid I can't even give you a good explanation as to the reasons.
What I can tell you is that the no shark situation meant we had four opportunities to dive with an incredible marine mammal… the Australian sea lion!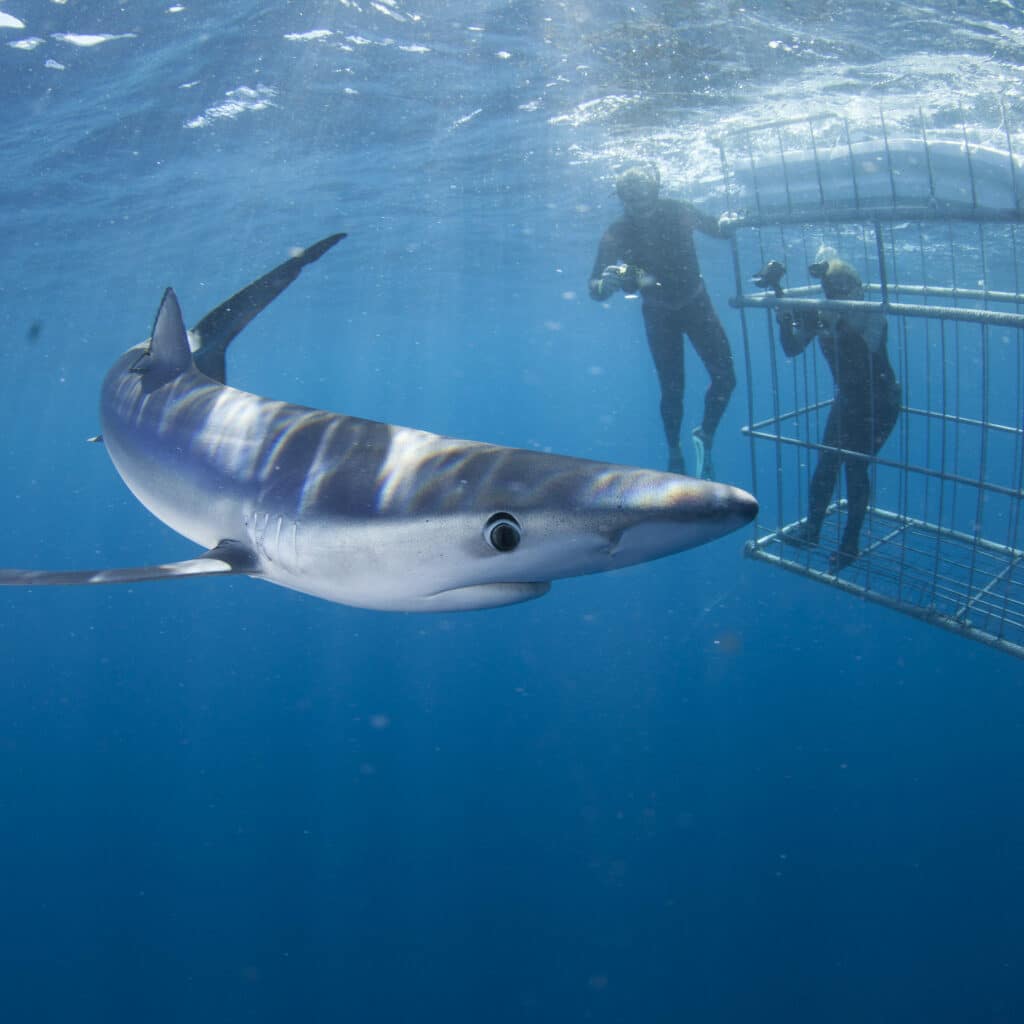 Wow, what an amazing experience to have been in the water with an animal that is so curious, playful and interactive, and added to this, just stunningly beautiful!
Even though they move so fluidly and easily underwater they were very enthusiastic to play with the humans. I spent all my time trying to move (not very gracefully) in fast movements underwater and they would very quickly approach and try join in.
The highlight was a bubble blowing connection I had with a smaller female.
She would swim down to the bottom, blow a large bubble and look up at me.
I would then swim down to the bottom, also blow a large bubble and so the game would continue with multiple bubbles being blown!
I really felt that there was a true and proper connection made and it was a very special experience.
We do have another opportunity to return for the Great white sharks Down Under so hopefully later in 2020 we can make this happen.
As we head towards February our greatest wish is that the winds start to die down and we have calm seas. Although we will be on high alert for any possible Great white shark sightings, we will be continuing to enjoy our beloved Sevengill sharks and exciting Bronze whalers!