A Shark Week documentary on Fred the shark in New Zealand
In early March Chris & I were extremely privileged to be part of filming for an upcoming Shark Week Show for Discovery Channel.
The Legend of Fred will be aired this coming August!
In this documentary, you'll find out all we know about the legend of fred the shark. This was our fourth visit to the very south of The South Island in New Zealand, to a place called Stewart Island. More specifically, a population of Great white sharks frequents an island off Stewart Island called Edwards Island and this is a very, very sharky place!
Considering the status of Great white sharks in South Africa is now so poor, and Australia is also beginning to have a lot of periods of not seeing sharks, New Zealand and Isla Guadalupe off Mexico are now the best places in the world to see Great white sharks.
I know that I have always been very appreciative of any shark sighting I have ever had but now, more so than ever, the chance to spend time with Great white sharks again felt like an exceptional gift.
We have always been extremely lucky with the Great white shark sightings we have had at Edwards Island and this time round it was no different.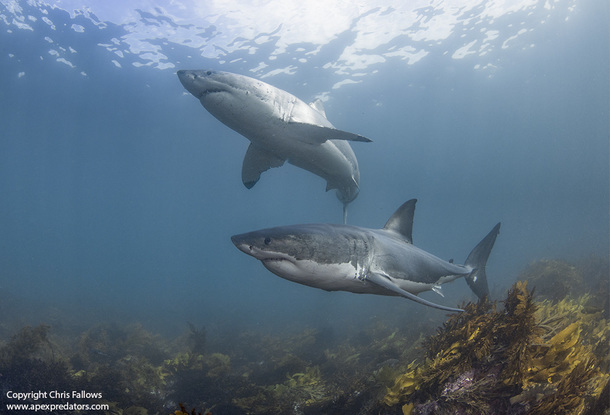 On arrival on our first afternoon we sat for nearly 4 hours with no sightings so I do admit being a tad concerned …….but the next morning a short 20 minute wait brought us our first Great white shark, and it was virtually nonstop from then onwards for the next 10 days.
You don't tend to see a high turnover of different individual sharks here but these New Zealand sharks are sure not shy of coming up to the boat and the shark cages. They also don't tend to be very revved up and most of the time they just curiously circle and make laps of the cages. One female shark in particular was a regular shark over the 10 days and she was extremely relaxed. At 3.8 meters in length, this gorgeous female would calmly swim up to the back of the boat and stIck her head out of the water, kind of like Rasta behaviour from Seal Island all those years ago.
It's pretty rare for to see this kind of behaviour and I remember taking in every moment that she did it, and literally trying to burn the memory of that sight into my brain. She was surprisingly gentle for an Apex Predator.
Another curious thing about New Zealand Great white sharks is that they seem to be abnormally comfortable with being in close proximity to one another.
Normally Great white sharks don't tolerate being very close to one another and size hierarchy play an important part in Great white shark dominance. The rules certainly seem to be relaxed here and on many occasions and throughout the trip,
GREAT WHITE SHARKS WOULD SWIM COMFORTABLY SIDE BY SIDE, ALMOST AS IF THEY WERE ENJOYING EACH OTHER'S COMPANY. AN AMAZINGLY INTERESTING SIGHT!
For those of you that know me well, you'll know that I tend to scream very loudly when I see a breaching Great white shark! I can tell you that it is completely unintentional and I just can't help myself, no matter how many times I have seen it. It was no different when on one very cloudy and windy afternoon off Edwards Island.
I HAPPENED TO LOOK IN THE EXACT SPOT AT THE EXACT RIGHT TIME AS A MEDIUM SIZED 3 METER SHARK DID A FULL AND COMPLETE BREACH ABOUT 100 METERS FROM THE BOAT.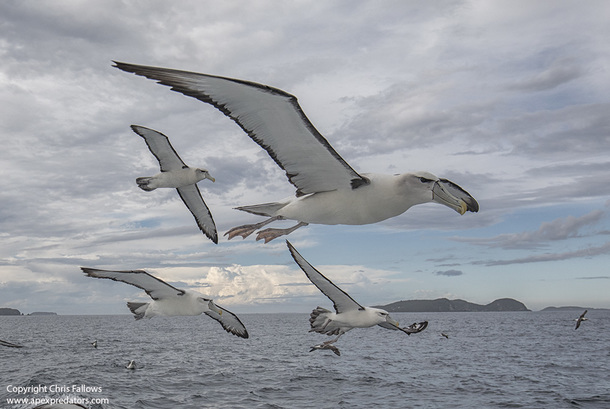 There was no seal and it seemed to be a completely natural event. As can often happen, I was the only one to see it, with the rest of the boat being left with no doubt as to what they had missed upon hearing my completely uninhibited and classic shark breaching scream!
The final highlight from the New Zealand experience took place one late afternoon/early evening on our way back home. The wind must have been just perfect for dozens of albatross to fly alongside the boat, and they did so in all their glory! In no time at all we were trailed by a multitude of albatross species including White-capped, Salvin's, Bullers and a lone Wandering Albatross. Such a privilege to see these magnificent birds at such close quarters…
Thank you New Zealand for yet again a truly unforgettable experience with your incredibly special wildlife.