The day had arrived for me to experience cage diving in the Capital of Great White shark hotspots in the world; Gansbaai. I had had the privilege of already cage diving twice in False Bay, and having heard so much about the Gansbaai area and its sharks, I was more than eager to finally put a picture to what were only words.
Gansbaai is located two hours outside of Cape Town. As I was travelling from Simon's Town, I had the option to meet at the Two Oceans Aquarium. The two-hour drive didn't seem as long as was anticipated; it's a scenic drive that includes driving through Hermanus.
Finally, we arrived at the Great White House, and the excitement heightened once more. We walked in to see a genuine Southern Right whale skeleton. Very impressive indeed! We were welcomed by  Aletta before heading upstairs for a light breakfast. We enjoyed a short presentation on the sharks, before heading down to the harbour, and to Slashfin.
Book your Gansbaai shark cage diving trip.
Experience Cage Diving with Great White Sharks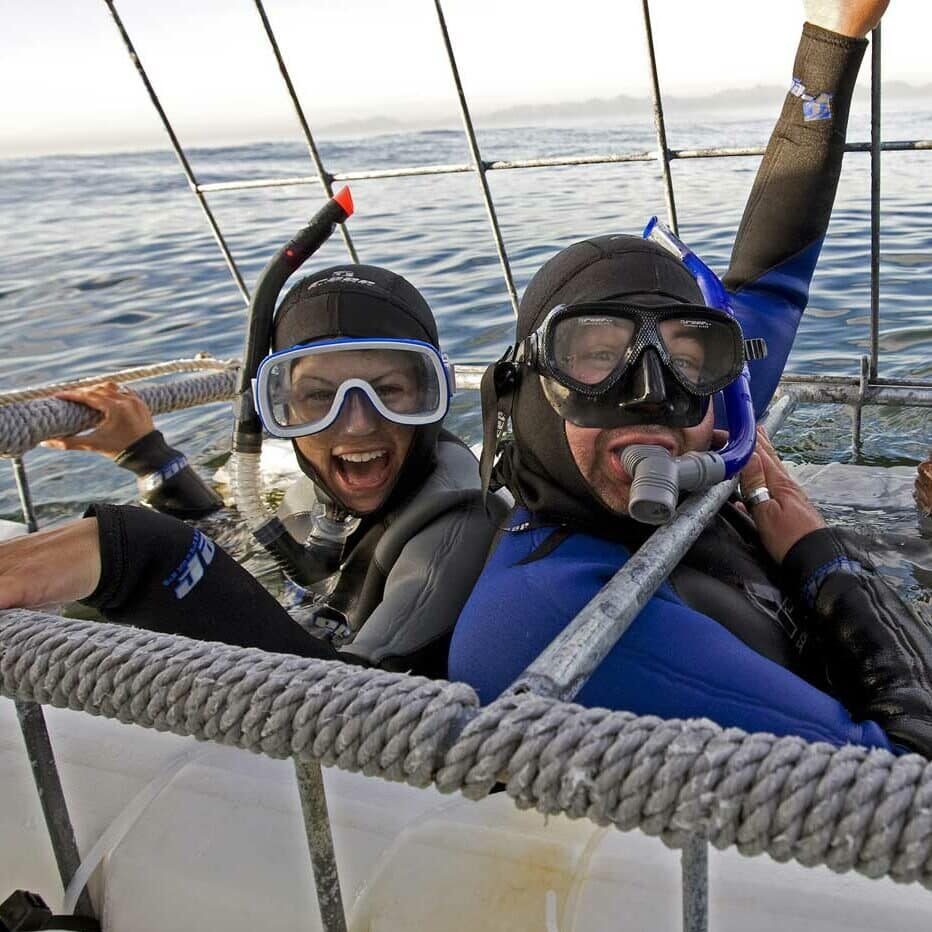 KNOWING THE POWER SHE POSSESSED AND WATCHING HER SWIM BY SO CALMLY, IS SIMPLY EXHILARATING…
The sharks were inshore at the time of my trip and not at Shark Alley as in the winter months, so Slashfin hugged the coastline for about 15 minutes before reaching our spot. We hadn't been on the anchor for long when I heard the first squeal of excitement, and knew exactly what that meant! A juvenile Great White shark had come to investigate, and boy was he beautiful! I had chosen to sit upstairs and could see every detail of him clearly. Wasting no time, the first group of eight guests was prepared for the cage. Soon enough it was my turn. The feeling right before you get into the cage will never fade. Another adult female, the length of the cage made an appearance. Knowing the power she possessed and watching her swim by so calmly, is simply exhilarating… Unfortunately, the visibility was quite poor, which is a reality when booking a shark cage diving trip.
Even though I couldn't see her as clearly as I would've liked, that in no way took away from the experience. Once back on board I was able to see her clearly! Often surface viewing is better than cage diving. To top off an amazing time at sea, the juvenile shark returned and leaped out of the water in front of the cage! Wow!
We made our way back to shore, sitting quietly and taking in all we had experienced. We were greeted with delicious hot soup and bread and watched the DVD of our trip. The end of the day arrived and we all clambered into our mini-bus. I was exhausted but happy. Each shark location offers a different experience; however witnessing a Great White will always be the most special encounter, regardless of where you go. I will never lose my appreciation for them and will be forever grateful for having seen them up close. Something everyone should do at least once in their lives.
We also offer shark cage diving in Cape Town.