In the latest Shark Bytes, we bring you sharky news from along the South African coastline, a sneak peek on the newest Air Jaws that we just finished shooting for Shark Week 2019.
Cage Diving with Great White Sharks at SEAL ISLAND in May 2019
2019 was never going to be a year of certainty for any of the shark diving operators along the South African coast. The last 3 years have seen a dramatic decrease in the numbers of great white sharks seen at all three locations as well as the unpredictability of sightings. On the flip side of that, new predatory shark species have filled the gaps left by the great whites, and ironically from a tourism point of view, these other shark species are actually more engaging around the cages so guests have been getting some really interactive shark dives.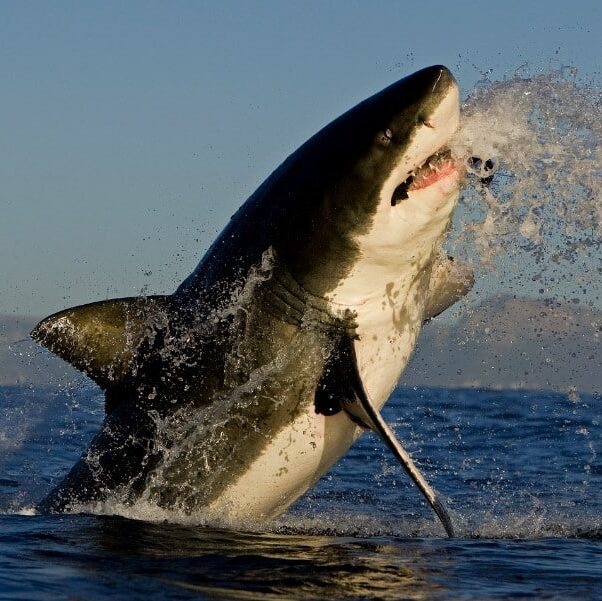 Towards the end of 2018, it was becoming increasingly apparent that Sevengill sharks were becoming increasingly present at Seal Island, perhaps in the absence of Great white sharks. They have been at Seal Island over our entire summer period and are still present in great numbers.
As such we are now operating shark diving trips 12 months of the year at Seal Island with these really interesting "dinosaurs of the sea". I say dinosaurs as the Sevengills are in evolutionary terms 180 million years old, and have literally outlived the dinosaurs! We have had a huge learning curve in terms of working with these sharks over the past months and are now at the point where we are seeing them on 99% of our trips. They are incredibly interactive and stay around the boat and cage for long periods of time. Some of the sharks we are seeing are up to 2.7 meters in length so they are massively impressive and make for a world-class shark cage diving experience. In fact, the feedback from our guests is always that the trip was an amazing shark experience.
We are now seeing between 5 and 9 sharks per trip with the highlight being the extremely good water visibility. For most of May, we have had between 8 and 12 meters of underwater visibility making for exceptional diving conditions.
We have also had pretty regular sightings of schools of common dolphin and a number of Bryde's whales making for good all-around nature experiences.
We don't know what June will hold for us but if 2017 and 2018 are anything to go by we are hoping to see the arrival of the first few Great white sharks back to Seal Island sometime in mid-June.
GANSBAAI AND MOSSEL BAY NEWS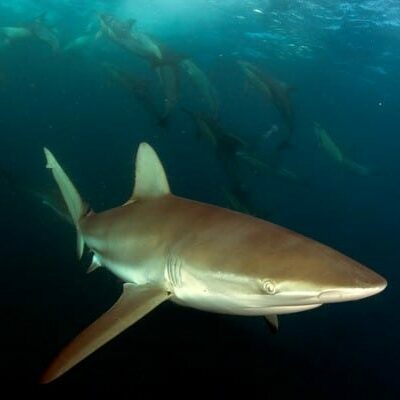 During May Gansbaai did have a week-long period of a handful of Great white shark sightings. Although the Great whites continue to be very unpredictable here the Bronze whaler/Copper sharks are still present in the area. It is interesting to note that they are still present despite the drop in water temperature. It seems that, as with Seal Island, if a gap opens up in the food chain as well as the threat of another predator no longer being an issue, there is good reason to stay in that area.
The presence of the Copper sharks has also meant there is a very good shark diving opportunity in Gansbaai and until the Great white sharks return we certainly hope their presence remains.
In the Mossel Bay area, the Great whites have started to return back to their Seal Island. Over the summer months, the great white sightings have also been unpredictable here, seen in lower numbers and for some periods, not at all. Over the last few weeks, the Great Whites have become more regular which is a relief indeed.
In general, we are finding there is confusion regarding the shark situation in South Africa at present.
A NEW AIR JAWS FOR SHARK WEEK 2019!
There is at least some very good Great White shark news to be shared from South Africa! We have just wrapped up shooting a brand new Air Jaws show that will be screened on Discovery Channel's 2019 Shark Week. It was filmed with our normal crew of Producer Jeff Kurr, Hosts Chris Fallows, Dr. Neil Hammerschlag, Alison Towner, and Dr. Enrico Gennari with cameramen Tony Sacco, Andy Brandy Casagrande & sound man Henau Marais.
The entire show has been filmed in South Africa and we were successful in capturing extremely unique and equally fascinating Great white shark behaviour. Our filming and observation locations were in Plettenberg Bay and Mossel Bay but I am not going to give the game away just yet!
Over the last 5 years, we have been seeing a general eastwards shift of all biomass up our coastline. A small seal colony located close to Plettenberg Bay has been growing over this time and with this, the presence of Great white sharks has also been increasing. The number of sharks is still very limited and as such the situation is precarious but it is exciting to know that new things are happening.
You'll need to red flag watching this show … it will certainly bring something new to your thoughts about hunting Great White sharks and Cape Fur seal behaviour along with filming with new techniques & angles!
You may also be interested in our other articles, Exclusive Whale watching in De Hoop, South Africa, as well as, Great White sharks in Mossel Bay.