Reflecting back on July and reflecting back on how unpredictable sharks sightings have been along the entire coastline we are grateful to have seen Great white sharks on all of our trips this past month. Although activity is generally down on previous years we did have many highlights.
Colossus conjures up a most Impressive Hunt
The 4-meter male, Colossus must be one of the most well-known Seal Island Great white sharks at present, and in mid-July, we got our third sighting of him of the season thus far. He is a shark that does not seem comfortable coming up to the boat and almost all our sightings of him are on predation events with his dented in dorsal making him very easy to identify.
On this particular seal hunt, our assistant skipper, Ryan, was able to witness an incredible event as he was putting the anchor down.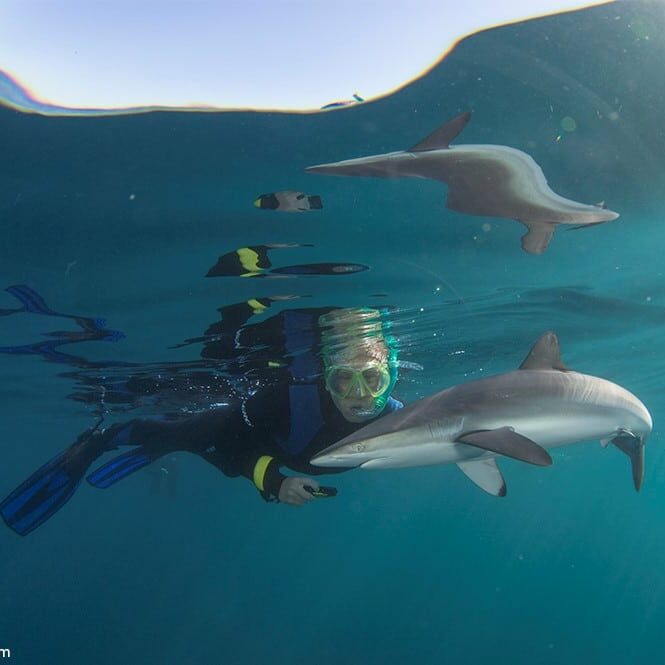 Cage Diving with Great White Sharks in July 2018
With the prevailing north wind in winter, we most often anchor just off the "LaunchPad". The LaunchPad is one of the key factors that help to bring about almost perfect hunting conditions for great white sharks at Seal Island and is a shallow reef that serves as the departure and returns point for most seals moving to and from the Island. The drop-off from the launch pad is dramatic and the deeper waters provide great opportunities for patrolling great white sharks to pick up on potential prey and the high volumes of seals that come and go. Because the reef is so shallow and the waters are turbulent here, the seals are for the most part safe from a hunting great white shark.
I say for the most part because Colossus has now proved us all wrong in our assumptions that a Great white would never try anything here!
It was a perfectly calm afternoon as Ryan put the anchor down and had a clear view of the launch pad directly in front of him as he did so. To his astonishment he continued to watch as a large shark, using the momentum of an incoming swell to take him onto the reef and easy as anything, grab a seal in the safety zone. He then appeared to backpedal as he wriggled himself off the reef and practically swallowed the seal whole. The seals reacted with a mass exodus off the reef but within moments the seal was consumed and there was virtually no sign that anything untoward had happened.
It is incredible that we have never seen a predation event like this in all the years but I suppose in a given opportunity and when conditions present themselves to a very successful hunter, the hunter will take full advantage. I know Ryan was extremely excited to have witnessed this incredibly interesting event.
A 4.5-meter shark does a full breach!
Chris and I have been traveling with some of our groups to various locations up the coast to try and showcase a mix of great white shark action as all three locations in South Africa offer different opportunities. With general great white shark activity being up and down everywhere we did have some slow days but did also manage a few very good ones and Chris along with our guests did manage to capture some beautiful great white shark images in different behavioural patterns.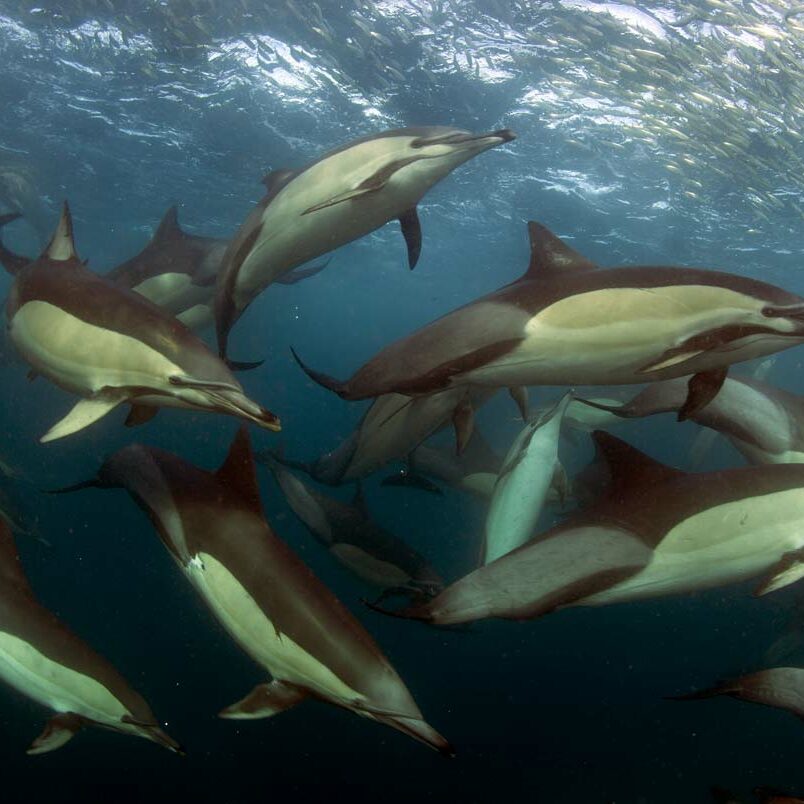 While we were away our crew in False Bay had the best breach of the season with a massive 4.5-meter shark doing a full breach on our decoy. The potential of seeing huge great white sharks breaching out of the water is synonymous with Seal Island and we were thrilled that our guests and crew managed to see this special event. Unfortunately, we don't have the photographs as all the serious photographer peeps were missing in action!
Whales and Dolphins!
In mid-July, we had a short period of fantastic common dolphin sightings. On one particularly beautiful afternoon, we came across a pod of about 200. We stayed with them until sunset hoping to take advantage of some beautiful light conditions. We were richly awarded some tremendous sights as the dolphins headed off into the sunset…
We have also had many humpback whales coming into False Bay as they migrate up our east coast and on a number of occasions we have seen a number of individuals traveling together as well as some breaching humpback whales.
We have also had the first few sightings of Southern Right whales as the early arrivals from Antarctica start to make their way back for the breeding and birthing season along our South African coastline.
Orcas!
At 7.20 am on 5 July the cell phone rang whilst we were busy starting in the office. It was our Skipper, Dave, with the news that they had just come across 5 Orca very close to Seal Island.
If there's one sighting that will get you moving out of the house, it's of the orcas!
In under 5 minutes, we had mobilised. I had my PJ's on under my sea weather gear, no breakfast but we did of course have the cameras!
Dave was able to stay with the orca until we got out there and an hour later we spotted White Pointer II in the distance as well as the tell-tale spouts of the orca. En route, Dave was giving us updates as to how more and more orca were coming together and this peaked at approx. 20 different animals. This sighting was a real bonus for the guests on our morning trip and they had had a great time watching the different individuals come together, seeing tail slaps and breaching as well as various other interactions.
Our team had also made another important observation….one of the notorious shark-hunting-orca, Port had been spotted amongst the group.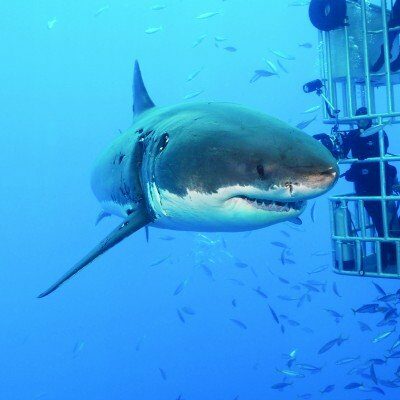 Once we reached them they had just begun to split up into smaller groups. It was difficult to decide which group to follow but we settled on 3 animals that seemed to be fairly comfortable with our boat. Most of the other orca was displaying signs of being distinctly wary of the boats and seemed to be actively avoiding them.
The three orcas we began following were an adult male, an adult female, and a juvenile. We still gave them a wide berth and within an hour we saw a big splash followed by a tail slap. When we approached closer it becomes clear that the three orcas were feeding. They stayed tight in one area and would constantly dive down below. There was also a slick on the surface so we were left in no doubt that they were feeding and food sharing.
Just as they were finishing off, we spotted a commotion about a mile away. It was 3 adult males, as well as Port, harassing a Brydes whale. We motored over to a closer look. By the time we had got there, three Brydes whales had come together, and were in a very agitated state moving together in a tight-knit group at very fast speeds and in erratic turns. They did not appear to make any predatory type of moves but the four orcas did seem to be intentionally taunting them.
In the time we had deviated to watch this interaction we had lost sight of the three orcas we had been following. And, the four orcas with the Brydes whales also suddenly disappeared. Impossible to believe that one can lose so many orcas so easily, but it is true! They seem to be just like leopards in the bush meaning if they don't want to be seen they will make sure they won't be seen.
Since we had lost them we decided to do a big circle back towards Gordon's Bay and then back towards Seal Island … nothing! It was now a good hour since we last saw them and although our chances of picking them up again were impossibly small Chris decided to take a run-up to Cape Hangklip and then run back down towards Gordon's Bay. As we approached Koel Baai we literally bumped into the original three orcas we had been following. Within a few hundred meters it looked as if they had caught something again and began diving deep below and feeding in tight circles with a large slick forming around them.
Things always happen in a split second with these kinds of things and out the corner of our eyes we saw the male come up to the surface with a large piece of flesh in his mouth. In that split second, we could see it was a pinky-grey colour and was most definitely from a large animal. Taking into consideration that where we were is a hot spot for seven-gill sharks we suspect this is what they had caught and killed. It was too fast unfortunately for a photograph but both Chris & I are certain of what we saw.
When they had finished feeding they moved very close inshore and began to move along the Rooi Els and Pringle Bay coastline as they began to make their way out of False Bay. They were so close to shore I am sure if anyone had been looking out from their houses they would have seen them.
Out of nowhere the pod of three orcas suddenly became a total of six different animals as three more orcas joined them from the Hangklip side. It was amazing to realise that they had all most likely know where each little grouping of orca was, and could easily find each other when they chose to.
AFTER SPENDING NEARLY 6 HOURS WITH THEM, THE ADULT FEMALE AND THE JUVENILE STARTED BECOMING MORE INTERACTIVE WITH OUR BOAT AND WOULD SUDDENLY RACE UP ALONGSIDE. AFTER THEY DID THIS ON A NUMBER OF OCCASIONS I THOUGHT I WOULD TRY SOMETHING. THE INTELLIGENCE OF ORCA IS WELL KNOWN AND WE ALSO KNOW THAT THEY LIKE TO BE STIMULATED. BEARING THIS IN MIND I BEGAN TO TAP A VERY SIMPLE TUNE ON THE SIDE OF THE BOAT EACH TIME THEY WOULD COME UP NEXT TO US. AFTER DOING THIS A FEW TIMES, AND WE WERE SURE THEY COULD CONNECT WITH THE TAPPING, I BEGAN TO DO IT WHEN THEY WERE AWAY FROM THE BOAT.

INCREDIBLY, AS SOON AS THE FEMALE HEARD THE NOISE SHE CAME BARRELLING TOWARDS THE BOAT AT HIGH SPEED, WHILST SWIMMING ON HER BACK AND EXPOSING HER BEAUTIFUL BELLY, AND CAME RIGHT TO THE POINT OF THE BOAT WHERE MY TAPPING WAS TAKING PLACE.
Shortly after moving away from the boat, I played the "tune" again and exactly the same thing happened, and again a third time. There was no denying it, the orca recognised the tune and associated it as having come from our boat, and it was something she wanted to interact with.
It was extremely exciting to have been able to connect with this special animal on this kind of level and its moments like these when one realises just how privileged we are to be doing what we do.
As the orcas headed out of False Bay at sunset they entered the rougher waters and began to jump and play around with each other. What a sight before us and what an epic encounter we had just had.
One lingering thought remains with us…. If these three orcas were indeed hunting seven-gill sharks it means Port and Starboard are not the only shark-eating-orca in town….there are now 20!
You may also be interested in our other articles, Great White shark in Mossel Bay, as well as, Celebrating False Bay in Cape Town, South Africa.