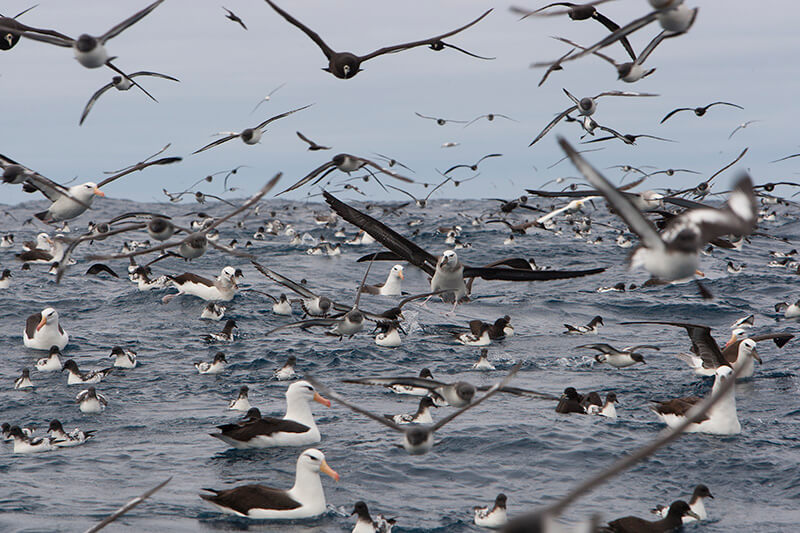 The waters off Cape Point rank along with New Zealand and Patagonia as the best spots on earth to see the great open ocean birds in a day trip from land. Whilst we wait for the sharks you will have an excellent chance to see many of these birds up close.
Cape Point's nutrient rich waters offer the chance to see no less than 7 species of albatross on a single outing although 3-4 is normal. This array includes three species, the Wandering, Northern and Southern albatross which have the largest wingspans of any bird. The greatest of them all is the Wandering Albatross whose wingspan may reach a staggering width of 3.6 meter (11ft).
During our daily excursions we often investigate the wakes of commercial trawlers who ply their trade close to where we work. These boats are trawling the ocean for a species of fish locally known as hake (Merluccius paradoxus) and in the wash of these boats up to 8000 birds can be seen during Autumn and Spring months, one of the greatest gatherings seen anywhere on earth.
Sadly as with long lining, trawling takes a huge toll on sea birds and many species populations are plummeting as a result of mortality due to these fisheries. Hopefully behind the trawlers you will see Tori lines (lines draped off the main net hauling cables) that reduce the amount of birds that collide with the cables.
In addition to thousands of Albatross, petrels, shearwaters, prions, gulls, skuas terns, gannets and a host of rarities and vagrants are regularly seen.
In fact you will have the chance to see the bird with the world's largest wingspan, the albatross alongside the marine bird with arguably the smallest wingspan, the Storm petrel.
The birds are often less than a few meters away and this is an excellent opportunity to see their amazing adaptations to this extreme environment up close.
The variation in species diversity depends heavily on seasons so be sure to ask beforehand, which is the best time of year to see your special bird.