Just across the Foveaux Strait which separates New Zealand's South Island from the much smaller Stewart Island lies a tiny group of islands known as the Titi ( mutton bird or Sooty Shearwater) islands and amongst these is Edwards island. Why this island is such a hot spot for great whites is hard to tell as many NZ islands have seals freckled along their shores and the East coast of the South Island is home to thousands of seals.
How I spent mt Time with Fred on Edwards Island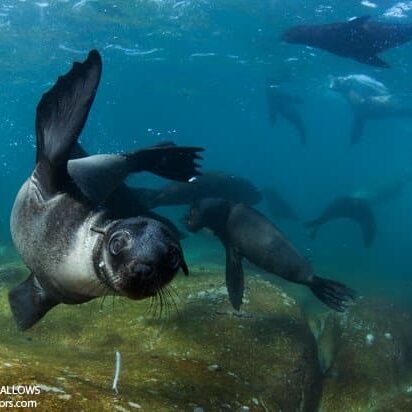 The fact remains however that researchers in the area have clearly shown that Edwards island is the Great Whites prefered kingdom.
Having visited the worlds famous great white strongholds in Africa, North America and Australia.
New Zealand was top of my to visit list to see how, if at all, behaviour differed here from other locations. The Tiny harbour of Oban is where our boat "Argo" motors the 4 miles to Edwards island from. This tiny island feels like it has been lost for two decades as life is noticeably slower and the 350 residents clearly enjoy the laid back way of life.
Before we even get to Edwards island Monique and I are already super excited. In our wake magnificent Shy and Bullers albatros crisscross our path in a celebration of aerial poetry.
These magnificent birds, with up to a 9 ft wingspan in the case of the Shy albatross are the kings and queens of the tempestuous airwaves of the lower latitudes around Stewart island.
The Argo is in itself a story. Nearly 70 years old she has been a trawler, a linefishing boat and today a shark diving and viewing vessel. Nothing like modern cage diving vessels in use in South Africa, and elsewhere, it is her old lines, wooden gunnels and work boat feel complete with classic wheelhouse, massive compass and windlass that make you feel  like you are stepping back in time.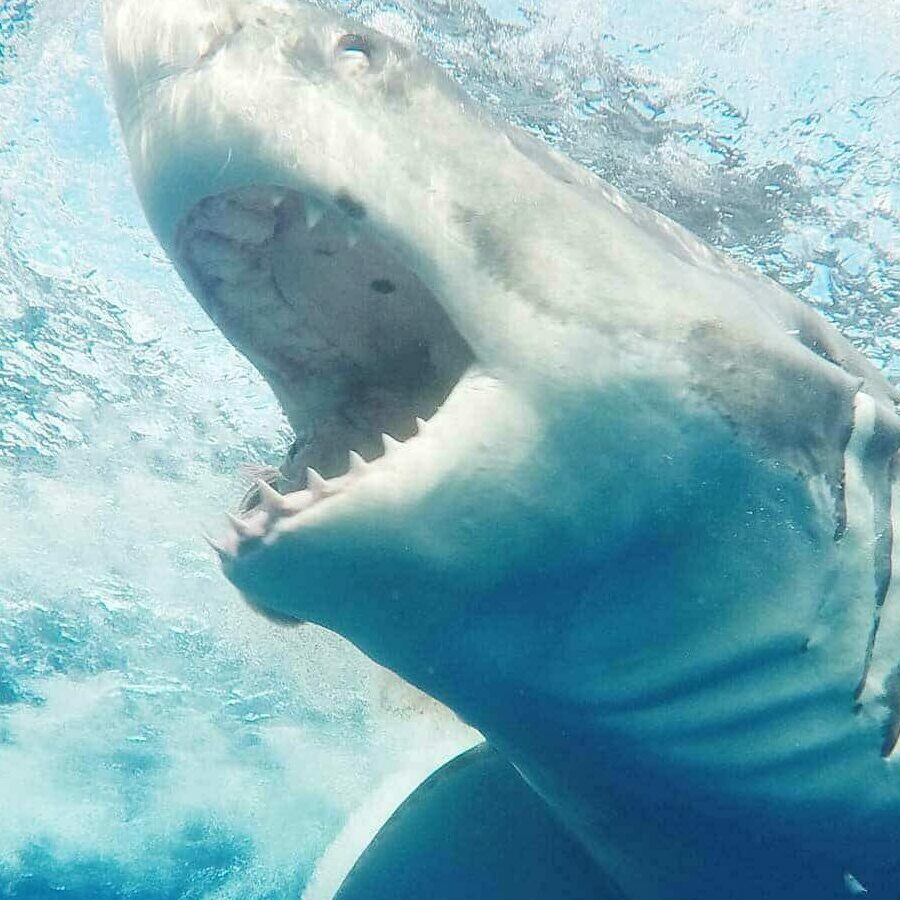 Aaaaargh me matee prepare the burley and get ready to walk the plank, aye theres a big hungry fish down there expecting you! 
Almost as soon as we had dropped our anchor and Peter Scott, our captain and pioneer of Shark diving in New Zealand, had dropped in a chunk of albacore a magnificent Great White glided into our slick. This was our first view of the most Southern known population of Great Whites on the planet.
We were anchored in 6 fathoms of water ( 12 m or 40ft) and the bottom I was soon to find out, was covered in luxuriant seaweeds of different hues anchoring themselves to a boulder field of differing sized rocks.
The varying sizes of boulders was to be important as one of my missions was to walk along the bottom in a device known as the WASP. I was in New Zealand as co presenter on a Discovery Channel show Called Air Jaws , searching for Colossus. The show try's to find out where a massive Great White we had seen breaching and hunting at Seal Island in South Africa has moved to and whilst a very long shot, New Zealand with it's highly segregated ratio of male great whites in the early Austral Autumn was to be one of our searching spots.
The WASP was a very well designed submersible shark cage and I fely pretty safe in it, despite it's small size. I was to walk along the seafloor and see what the great whites were doing down there when not on the surface and hope against hope, that one of the sharks I would encounter would be Colossus.
My first sojourn into the shark underworld went well. I had several sharks ranging from 10-14 ft come very close and check me out. It was an epic experience, I felt like I was walking on the moon as I had to scramble my walking cage over rocks, through crevasses and amongst the kelp, all the time being moved around in different directions by varying degrees of current
What was instantly apparent was how comfortable the sharks were with each other down there and far from being cautious around the WASP, as I had imagined with a foreign object, the sharks were curious. I had the odd gentle bump and many cursory glances but other than being very excited by the novelty of what I was doing nothing to untoward happened.
A SPLIT SECOND LATER, BONNNNNNNG. FRED HIT ME FULL ON, WITH PROBABLY 3000 POUNDS OF CURIOUS MUSCLE.
As my air started running low I headed for the surface and in a very undignified way was hoisted out of the water banging around whilst under a crane. All in all though it had been great fun and I could not wait for my next mission.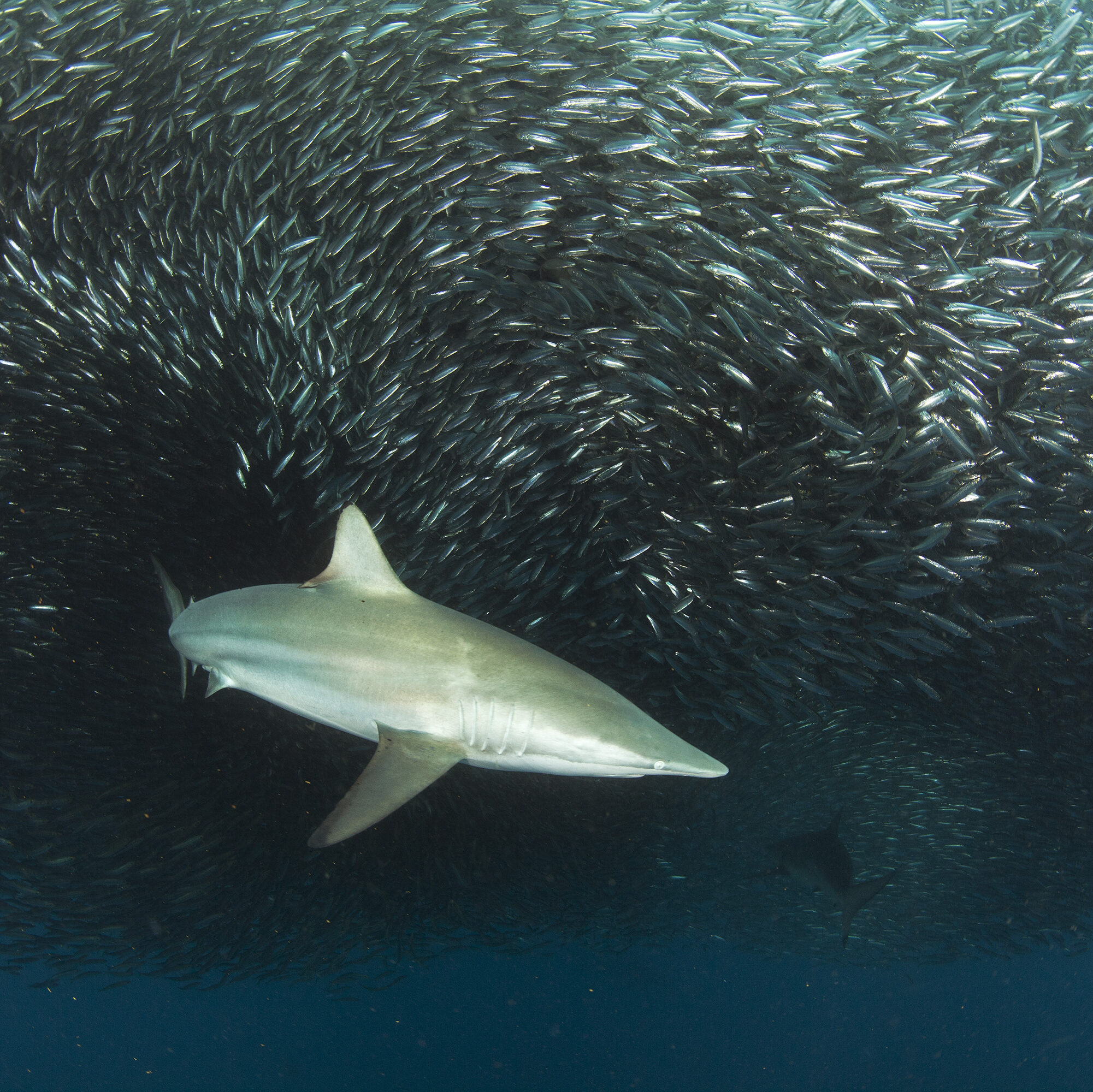 The following day once again produced great conditions, although the visibility at 15-18 ft was not all that great. Prior to me getting in the WASP a nearly 5m male known to my safety diver and local shark researcher Kina as "Fred" came by to say hi. He dominated all the other sharks and I hoped when I was below he would give me the pleasure of his company, I was certainly not to be disappointed.
As part of the show a second cage was lowered with well known cameraman and shark veteran Andy Brandy Cassagrande filming me doing my thing amongst the sharks. The idea here was they would hover above me and I would walk around the bottom whilst they filmed. The problem though was that the moment I hit the bottom I moved in a different way to what they did as they were still linked to the boat and at the mercy of the Argo as she moved with wind and current on anchor.
All started well and no sooner had I hit the bottom than two great whites of between 10-12ft came over, very close, to say G'Day.
I had the ability to open the lid of the WASP which allowed me to use my camera to take photos and ID shots. I felt a little uneasy by how completely unperturbed the sharks were by the WASP and they were very very bold, coming ever closer. After I had to use my camera a few times to fend them off I glanced to the edge of my visibility and there, slowly descending towards me, was a truly big Great White Shark. Swimming alongside this shark was a big pilot fish and there was no mistaking this shark, it was "Fred" the 15ft male. Awesome I thought………as Fred made a slow deliberate, non threatening spiral downwards towards the WASP. I squeezed off a few frames, the only word I could think of was "awesome", this was pretty amazing. I now had at least three great whites orbiting me at close quarters and one of these was the biggest male I had ever dived with.
Well, this is when things ratcheted up a gear. Fred, instead of passing me by, decided to really come and say hi. He just swam slowly and deliberately right at me, I fired a few shots as he filled the frame with ever increasing detail. He was coming in at a bad angle, one that would have meant no glancing blow, but full on contact right where my camera and head were. I now had waited too long and due to the tight confines of my cage I could not quickly get my camera and strobes in with me in time and I certainly did not want to take my eyes off Fred. Jeepers, I had no choice but to drop my camera and let it dangle enticingly on it's short safety line just outside the cage as I swung the lid over and locked the safety catch.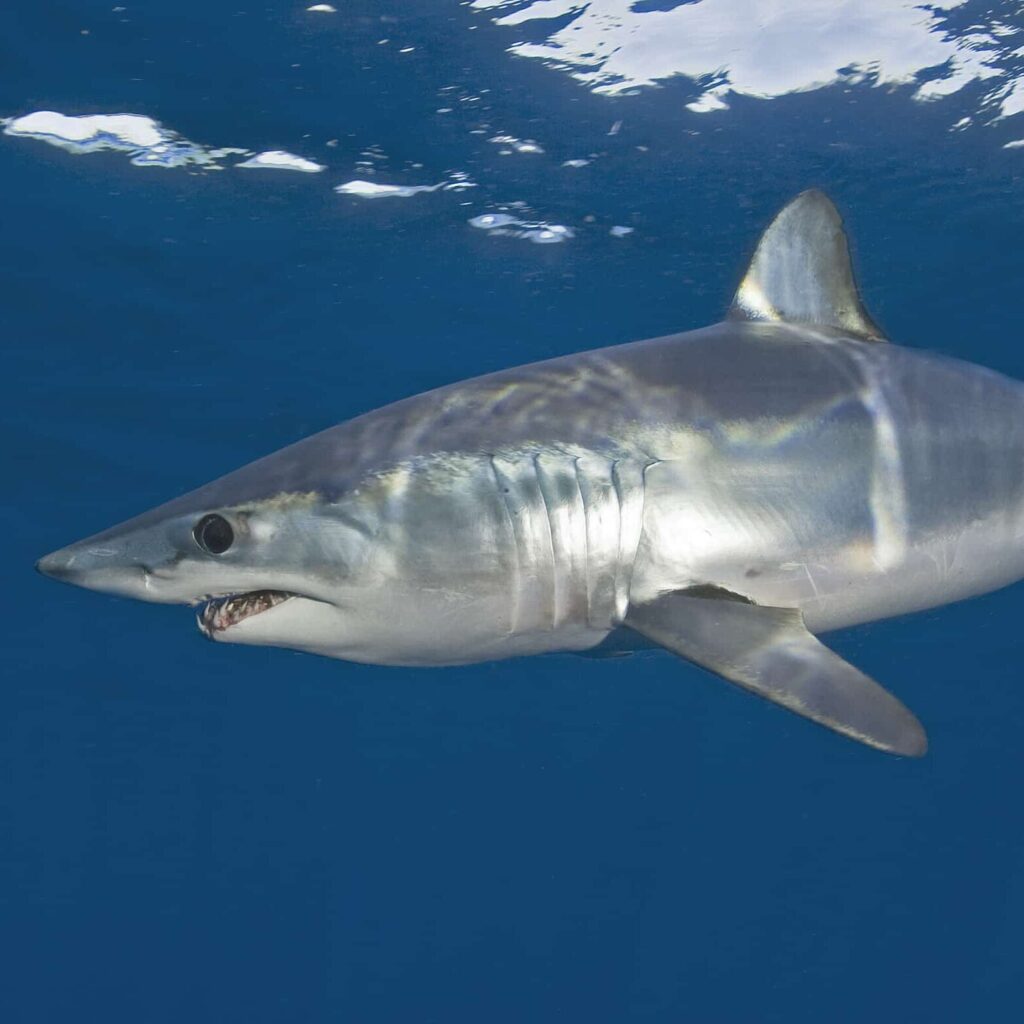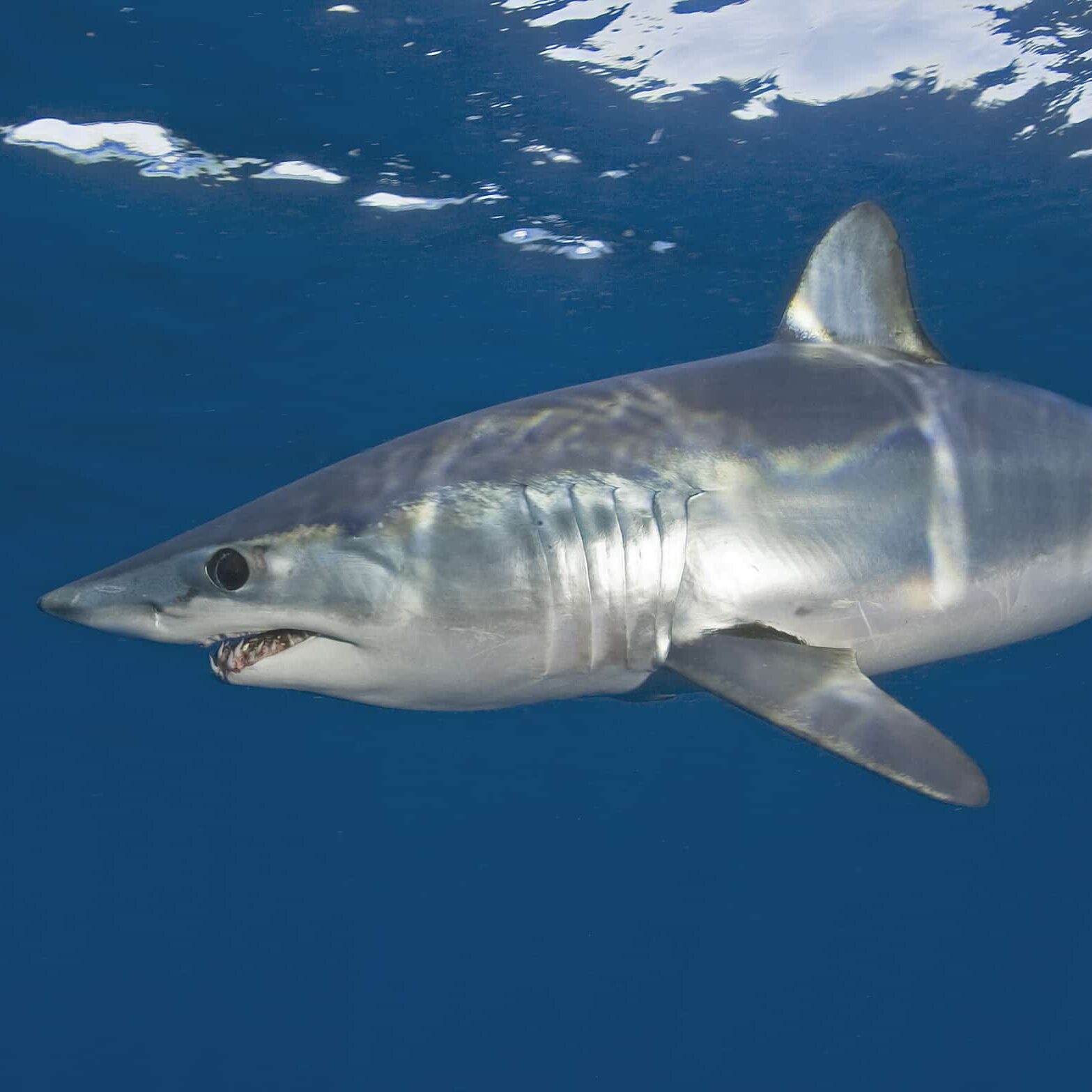 A split second later, Bonnnnnnng. Fred hit me full on, with probably 3000 pounds of curious muscle. The WASP teetered but then righted itself. As I turned around to see where Fred was, I saw that horrifyingly he had recruited help, his smaller mate , of only 12 ft or so. Fred had quickly doubled back and now both of them came in in perfect unison, generally I would have said beautiful, but not right now. They both struck perfectly at the same time, hitting me midships and slightly on the flank, respectively, although I think the word perturbingly would have been more apt. Everywhere I could see was Great white shark, I was well and truly an unwitting part of the brotherhood with 50cm long claspers bouncing off my dome.
I looked up hoping Andy was shooting this,but where the hell was Andy? The midwater cage had drifted away with the boat as the wind had shifted and I could vaguely see them disappearing into the gloom. I was alone with Fred and his pal's. If two were not enough a third shark thought things looked cozy, hadn't he heard of three being a crowd? I joke now but for the next 15 minutes or so I got bonged first this way, then that, I had them bite, nudge, push, glance and whack the cage from every angle. I honestly thought I was in a very crazy theme park game called "whack"the WASP and the winning shark got to eat the occupant. All the time my camera dangled precariously outside the cage and I was convinced a shark would grab it, and then swim away with it, just to probably drop it into an area I would never find. 
I don't want to sound like I am overdramatizing this. In 1994 I had a 10 ft great white in a one man cage with me for over a minute at Dyer Island, I have Kayaked, Stand up paddle boarded , and free dived with Great whites all over the world , on numerous occasions, but nothing ever as full on as this. Finally, and I can't actually remember how or when, I got a few seconds to open the lid and haul my camera back into the WASP, gouging the glass dome port in the process. Then another series of Bongs, by now I was feeling like the hammer inside a church bell.
I had to do something, so, slowly between onslaughts, I walked back along the path of my safety line , which lay across the bottom to where the boat must be. As I went, the sharks seemed to take a breather. By now the mid water cage had been hauled to the surface and as I walked I felt the line to the base of my cage being pulled, great, someone was still out there. I now felt the base of the cage moving upwards and suddenly I was upended, basically being pulled upside down to the surface.
Team Fred , all the while following and occasionally bonging me, followed me up. It must have been the greatest Great White Shark game ever. I could only imagine them telling other great whites how they had teamed up on this yellow and black giant hermit crab and terrified the creature inside it until it had swum with it's tail between it's legs up to the surface and out of the water. I could just seem them laughing themselves silly.
When I got to the surface the WASP had several battle scars and I was emotionally swinging between feeling excited and the feeling of what the hell just happened down there?
 Following this dive I did do several more WASP walks, in fact another that same day. I knew that despite their robust excitement around me that the onslaught was more out of curiosity than that of hunger.
That said I for one had a new respect for the cool sharky customer that the shark dive and research Team from NZ affectionately call FRED and whenever Fred cruised by I quickly went into my shell, and battened down all hatches. 
We offer shark cage diving Cape Town and cage shark diving Gansbaai.