Who would ever have thought way back in 2000 when we were working on the Original Air Jaws for Discovery Channel's Shark Week that now, 18 years later and 9 documentaries down the track, the world would still be so engrossed in seeing 2000Lb sharks flying out of the water.
I guess when you think about it there are few things in real life that are truly that spectacular. Sure, Hollywood can conjure up anything it chooses but flying great white sharks, now that's crazy.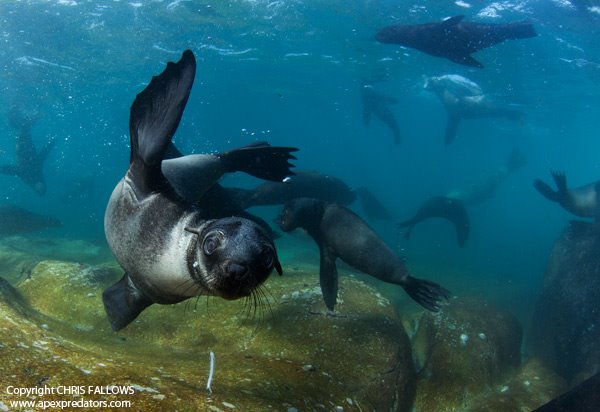 Can you imagine when Peter Benchley wrote JAWS if he had included a scene where the young girl who is attacked in the opening scene was breached upon and launched 10 feet clear of the water, that would not only have kept people out of the water but also right off the beaches!
I well remember those first days when friend and legendary Shark Week Film maker Jeff Kurr first saw a big great white take to the Air, like when I saw my first breach, Jeff was gob smacked. The sight of the world's most famous, beautiful, notorious and engrossing shark, the Great White, flying ten feet clear of the water was sure to be a winner.
The key to so many of the Air Jaws shows has been innovation, creativity, daring and a great team of highly talented film makers. What has also played its part time and time again has been luck. There have been so many times when after weeks of filming we were still missing that crucial jaw dropping moment and then in the last minutes of the last day of filming, it would happen.
Air Jaws does not make excuses for what it is, it's natural history entertainment which now has a cult-like following on Shark Week.
Having said that each episode has strong educational and conservation themes wrapped into beautiful cinematography that really tries hard to portray the real stars, the great whites, for what they are, magnificent super predators.
Each of the 9 shows has had at its core jaw dropping scenes of the sharks doing things few people had ever seen but the powerful visuals have been balanced by strong scientific analysis by some of the world's leading shark scientists, from Dr Rocky Strong, Aiden Martin, Sean van Sommeran, Alison Towner, Dr Alison Kock, & Dr Neil Hammerschlag .
It really has been a journey of Discovery……….
Air Jaws: South Africa
In the first Air Jaws, filmed exclusively at Seal Island, False bay in 2000, we not only brought the spectacular breaching phenomena to the world properly for the first time BUT we also had the great fortune of getting a 11m long Brydes whale carcass towed by the South African navy to Seal Island.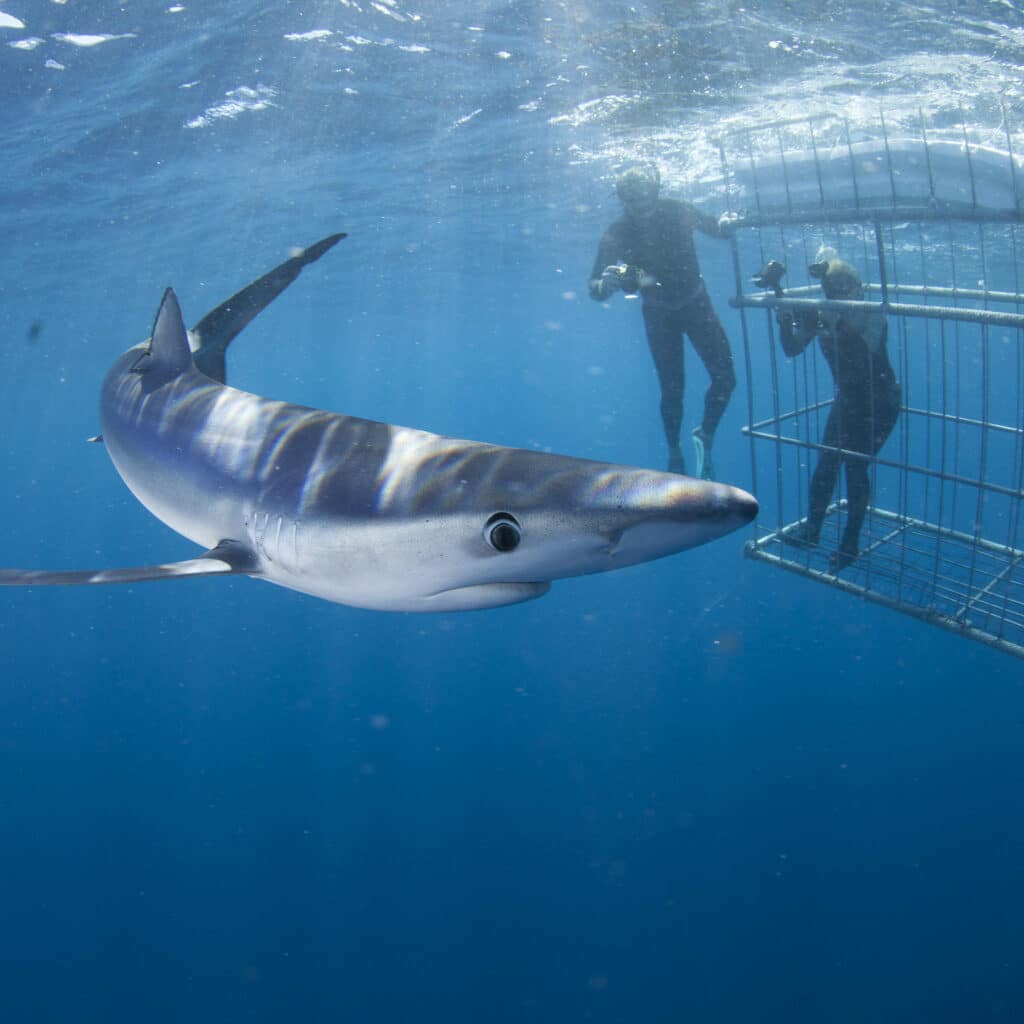 To this day, the scenes that followed are still THE MOST AMAZING scenes involving great whites I have ever seen. It was in the heart of our season at a time when Seal Island had arguably the largest population on great whites on the planet and some truly huge sharks upwards of 16 feet as regular visitors.
I remember anchoring our small boat next to the anchored whale and almost immediately sharks started popping up between us and the whale.
Like the sharks I was overstimulated, some would say an idiot, and I climbed onto the whale carcass to be able to get a 360 view of the great white gluttony that was unfolding all around me. I was sliding in oily whale blubber, my lens cap rolled off the whale and into the sea and all around me it was going crazy. Monster sharks, 16, 17 and maybe 18 foot giants were all getting stuck in.
On the boat, everyone was engrossed. We were all seeing things few believed possible. Jeff was filming a 16ft shark which had lunged up with its pectorals clear of the water. Rocky, who was in the cage was being bumped this way and that and at one time was being pushed around by two 15-17 foot sharks at the same time as they investigated the cage which had been garnished in whale oil.
Eventually after much cajoling, I climbed back aboard the boat and no sooner did Alison Kock call me to the front of the boat where two huge sharks were feeding right next to each other with the one advancing towards the next. As they moved right next to the other, the one tried to bite into the whale where the other sharks head was. Quickly the shark realized it's mistake but not after leaving two perfect teeth in the other shark's head, which carried on feeding! Alison and I both nearly fell in as we reached over board to try and extract a tooth from the giant's head who was oblivious to all the chaos and kept feeding.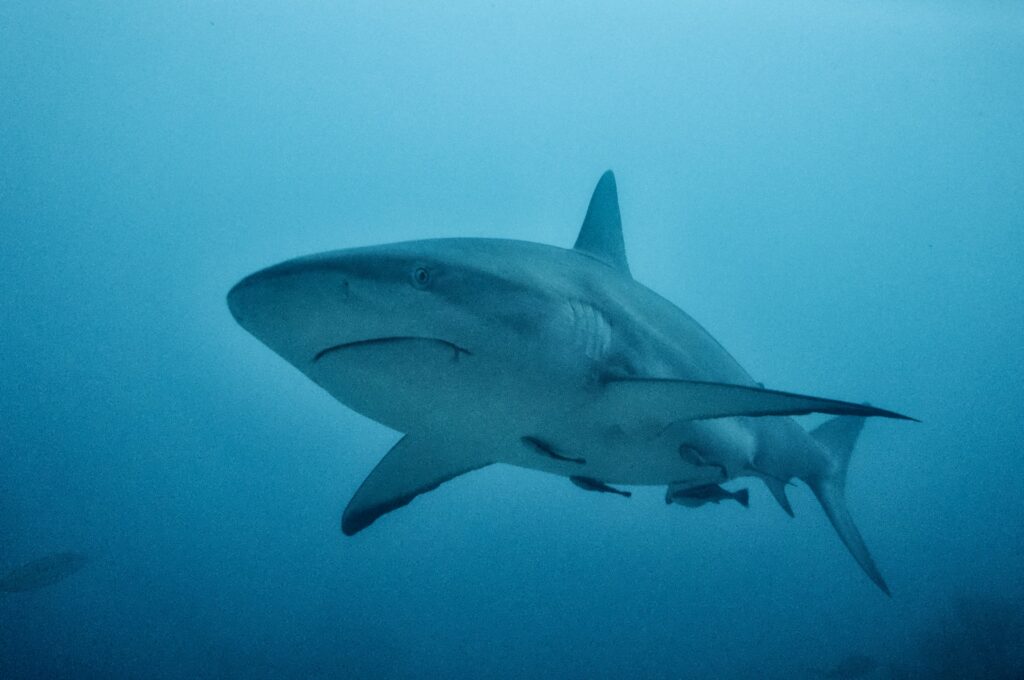 Quite simply it was insane, everywhere there was action and the sound of bellowing cavernous mouth ripping 50lb chunks of whale from the carcass. Over the next 9 hours we would definitely record 28 different great whites but the number was probably closer to 40 as it was too difficult to keep accurate track other than of those with obvious markings, tags or spectacular sizes.
It was and still is probably the greatest concentration of giant great whites ever recorded at one sitting and a spectacle unlikely ever to be repeated.
These scenes together with the first compendium of aerial hunting of huge sharks could only be a success and coupled with Rocky's sound scientific commentary and Jeff's great camera work, Air Jaws was firmly on its way to cinematic stardom.
We also offer great white shark cage diving Cape Town and shark cage diving Hermanus.